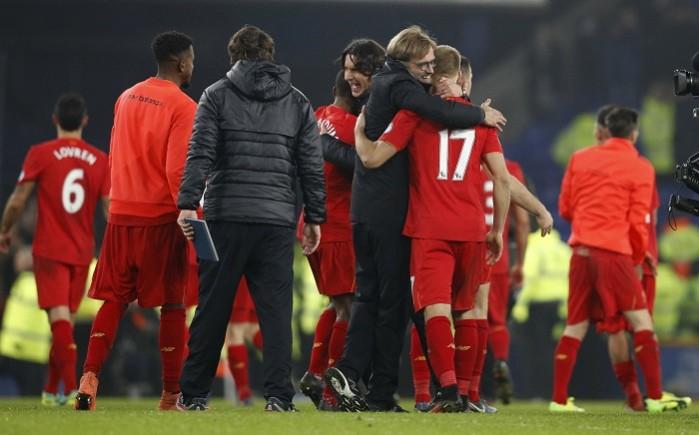 Jurgen Klopp was a little stunned – you know the nice stunned, when you are just letting the emotions run through you without being able to react – when Sadio Mane reacted, quick as a cat, to turn in the rebound off Daniel Strurridge's strike and give Liverpool a 1-0 victory over Everton in the Merseyside derby. The emotions eventually came out, with the German celebrating what could prove to be a vital three points in the grand scheme of Premier League title things.
Any win over Everton, particularly an away win at Goodison Park, is to be celebrated, but this was more about Liverpool staying in sight of Chelsea, who are on a ridiculous 11-match winning run and had opened up a nine-point lead on Klopp's men. To get a win in such dramatic circumstances, with a 94th minute winner, is just the kind of feeling Liverpool need to believe they can break their league title drought.
Up against a physical Everton side, Liverpool slowly but surely grew into the game, eventually taking away the three points, which Klopp believes was more than deserved.
"I think we were the clear better team," Klopp said. "That doesn't mean we had to win, but if we talk about a deserved win or not it would have been LFC, but of course everything can happen in a game like this – they could have scored one goal and then they are the deserved winner, but only in an open game.
"It was great, intense, how a derby should be, not the best football in the world, but you cannot ignore the intensity, you cannot ignore the importance of a game like this, you have to take it like it is. In the second half we took it like it should be."
Everton, despite starting stronger, barely created any opportunities, with Simon Mignolet, for the most part, asked to do little. While chances were not exactly prevalent every other minute at the other end, Liverpool did create the better openings, with their perseverance finally rewarded in the form of the winner from Mane.
The man who created the opening, Sturridge, was praised by his manager, with the striker making just the impact Klopp would have wanted after only just returning from another injury.
"It's like this, you have Daniel Sturridge on the bench you always think 'okay, when is the time, when can we bring him? Is he ready for this?' Because it's not usual or normal that after two sessions a player can really help you, but he helped us a lot in a very difficult game," Klopp added.
"He could make kind of the difference in this moment, but it was really important that we...I don't want to be disrespectful so don't misunderstand, but it was like in the first half we said 'okay, now we are warm' because it was not too intense for us and they had a lot to do so they are halfway tired and so when Danny comes in after 70 minutes, it was a real intense game and so then to bring in real fresh legs then, that's a good thing to do."
The win means Liverpool stay six points behind leaders Chelsea, while moving back above Manchester City, who had occupied second-place for a day, following their 2-1 win over Arsenal, who have slid down to fourth in the table following two straight Premier League defeats.