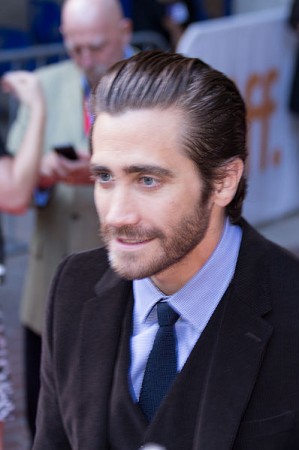 Jake Gyllenhaal has finally shaved his bushy beard and showed off a clean look, as he stepped out on the streets of New York on Monday, May 19. The 33-year-old actor had to sport a fuzzy look for his role of Scott Fisher in adventure thriller "Everest".
Gyllenhaal's spanking new look also hints that the production of the movie has been wrapped. "The End of Watch" star was dressed in green cargo trousers and navy blue sweater, which he teamed up with a suave pair of sunglasses and black sneakers.
"Everest" is being shot in a 3D format and is based on a 1996 climbing incident, where a group of adventurers disappeared on their way to Mount Everest.
Gyllenhaal leads one of the climbing groups in the movie, which is being directed by Baltasar Kormákur of "101 Reykjavík" fame and stars Keira Knightley, Emily Watson, Robin Wright, Josh Brolin and Clive Standen in pivotal roles.
"Everest is about the '96 Rob Hall and Beck Weathers and Doug Hansen ascent — the biggest accident on Everest. And that's going to be probably as extreme [as The Deep]", Kormákur told Filmmaker Magazine.
Furthermore, in his interview to Variety, Kormákur said that American actors though committed, could be difficult to deal with.
"I think good actors are good wherever they're from. Maybe there's more commitment on this higher level, because there's so much risk. American actors can be prima donnas and difficult to deal with, which I understand, when you're on a high level. I don't always agree with it. But I see where it comes from," Kormákur said in reference to working with Gyllenhaal, Brolin, Watson and other American actors in "Everest".
Meanwhile, Gyllenhaal's another film titled "Southpaw" is set to go on floors in June. Reports suggest that the film will be majorly shot in Western Pennsylvania. "Southpaw" is a riveting drama that tells the story of a left-handed welterweight champion boxer, who experiences a tragedy, and later makes a thundering comeback.
The remaining cast of the film is yet to be finalized, though rumors suggest that Oscar winners Lupita Nyong'o and Forest Whitaker are being considered for the film.