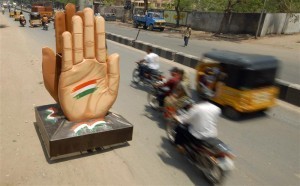 After Shashi Tharoor, now it's the turn of Sanjay Nirupam, Congress leader and AICC Secretary, to bring another controversy to the grand old Indian political party, which faced a humiliating defeat in the last recent election.
Nirupam on Satuday stated that even Narendra Modi would have lost the Lok Sabha election, had he contested on a Congress ticket.
The AICC Secretary stressed that the strong anti-incumbancy wave worked against the Congress-led UPA government in the election, in which the Modi-led National Democratic Alliance (NDA) swept the polls.
Congress got only 44 seats in the 543-member Lok Sabha, while BJP won a comfortable majority of 282 seats and formed the NDA government at the Centrte.
Public anger was built up due to several factors during the 10-year Congress rule, Nirupam pointed out, adding that the public sentiment against Congress was so strong that even someone as influential as Modi would have lost badly, had he contested the polls as a Congress candidate.
According to Nirupam, a few decisions taken by the UPA government made the people in the country angry. Price rise and corrupton were the main issues and BJP encashed on them, he added. Though the last election was a massive defeat for Congress, it was a lesson too, Nirupam said.
However, the AICC Secretary is confident that the current trend for Congress is not a permanent one. Nirupam also expressed hope that the rout faced by Congress in the Lok Sabha election would not repeat in states like Maharashtra, where Assembly elections are due in a few months.
Nirupam had lost the Mumbai North constituency in the general elections. Nirupam had invited some controversies as well, since he was earlier with the Shiv Sena.
Recently, Shashi Tharoor, a Congress leader from Kerala and a former Union minister, had hailed Prime Minister Narendra Modi for the latter's efforts in romping the BJP-led NDA to power.
Reacting to Tharoor's comments, senior Congress leader Mani Shankar Aiyar branded the former UN Under-Secretary General as a defector to BJP.