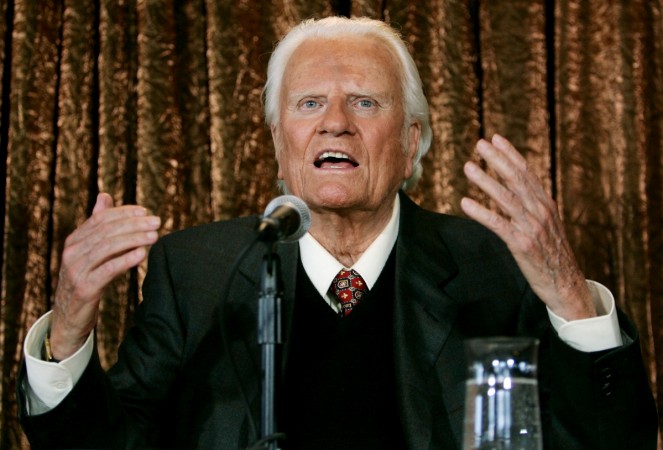 Renowned US Christian evangelist Billy Graham, who preached to millions of people across the world in a career spanning more than 60 years, passed away at his home in Montreat, North Carolina, 7:46 a.m. (6:16 pm IST) on Wednesday, February 21. He was 99.
Jeremy Blume, a spokesperson for the Billy Graham Evangelistic Association, has confirmed the death of the evangelist, who was one of the most influential Christian preachers of the 20th century.
Billy Graham is estimated to have preached to over 210 million people through his crusades and simulcasts around the world during his 60-year career and had spoken to a dozen US presidents, including Harry Truman, George H.W. Bush, Bill Clinton, Lyndon Johnson, Richard Nixon, and Barack Obama. The presidents reportedly used to call on him during dark hours for inspiration.
The renowned preacher retired to his home at Montreat, North Carolina, in 2005 due to his failing health after preaching about Jesus Christ to millions of people in several countries over six decades. His final revival session was held in New York City in 2005 when he was 86.
He made a rare public appearance in 2010 for the re-dedication event of the renovated Billy Graham Library despite significant vision and hearing loss. He had been treated for pneumonia, cancer and other ailments in the recent years.
Describing him as 'a special man', President Donald Trump tweeted: "The GREAT Billy Graham is dead. There was nobody like him! He will be missed by Christians and all religions. A very special man."
Here's what people are saying about the demise of Billy Graham on Twitter:
Karen and I were saddened to learn of the passing of one of the greatest Americans of the century, Reverend Billy Graham. We send our deepest condolences to the Graham family. (1/2)

— Vice President Mike Pence (@VP) February 21, 2018
While it was sad to hear the news of Billy Graham passing, I am rejoicing that he is now home in heaven. Billy was a great man of God who made a tremendous impact all over the globe. His love for people and integrity had a great impact on my life and so many others! pic.twitter.com/m1KshXeSw4

— Joyce Meyer (@JoyceMeyer) February 21, 2018
"Someday you will read or hear that Billy Graham is dead. Don't you believe a word of it. I shall be more alive than I am now. I will just have changed my address. I will have gone into the presence of God."
-Billy Graham

— David Crowder (@crowdermusic) February 21, 2018
Billy Graham has always been and will always be a hero in our home. Next to my own father, Reverend Graham was the most humble and gracious man I ever knew. I am honored to call him a friend and a mentor. Victoria and I will miss him dearly. pic.twitter.com/8kkj3kYRJo

— Joel Osteen (@JoelOsteen) February 21, 2018
As a college student, I was fortunate to hear Rev. Billy Graham speak. We mourn his passing but celebrate the lives he touched with the Gospel message. His teaching and ministry will continue to impact generations to come.

— Jim Banks (@RepJimBanks) February 21, 2018
Billy Graham lifted eyes toward heaven and instilled heaven's values in hearts. The world mourns this man of character, this man of God.

— Mitt Romney (@MittRomney) February 21, 2018