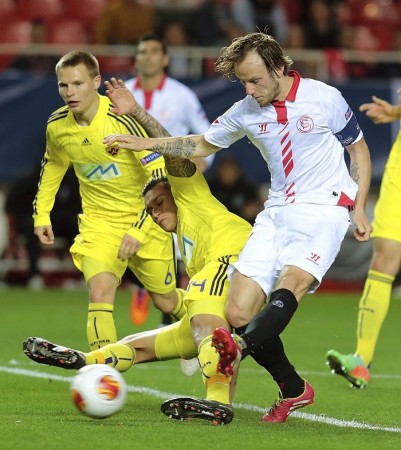 If form is what will decide the tie between Sevilla and Real Betis in the last-16 of the Europa League, then Sevilla will win hands down. But then when it comes to derbies, the form book essentially goes out of the window, and Betis will look put their La Liga woes behind them as they look to pull off a massive result against their Seville rivals.
"We come here with confidence," said Betis manager Gabriel Calderon, whose side are rock bottom in La Liga at the moment. "We have to keep our good form going. We played well against Villarreal [in the Liga] and Rubin Kazan, and we must play like that again."
In the last two Seville Derbies played at the Estadio Ramos Sanchez Pizjuan, the home side - Sevilla - won by four goals, and Betis will need to be a lot tighter at the back if they are to ensure the tie is not put to be before the second leg.
"We must continue not conceding goals in the first few minutes, we've improved that lately," Calderon added. "Sevilla are very dangerous from freekicks and corners thanks to players like [Ivan] Rakitic.
"But in football you have to play to win if you want a positive result. This city deserves matches like this. It should be a party for the fans."
Sevilla manager Unai Emery insisted he will not be taking a win over Betis for granted, knowing full well in Cup competitions anything is possible, and their opponents are likely to come thinking they have absolutely nothing to lose.
"It will be a great day for both teams but there are no favourites," Emery said, looking to temper the expectations. "We know Betis very well. There is no point looking at past results, all that matters is the here and now.
"We want to enjoy the moment and we'll be playing for the win. I'm expecting a tight match played at high intensity.
Rakitic, who will undoubtedly be the player that Betis will have to keep quiet if they are to come away with anything from the first leg, said he has been overwhelmed by the support and anticipation that has been building up ever since the draw was announced and the two rivals were pitted against each other in the round-of-16.
"It is the most exciting match I have ever played in," he said. "It is one we will always remember and we're very lucky to be involved in this derby on the European stage. Everyone in Seville is talking about the tie.
"Everyone knows what Sevilla have achieved in the Europa League. We have won two UEFA Cups, so it's something which is very special for the supporters. We know tomorrow's [Thursday's] game will be tough but we've prepared in the best possible manner."
Europa League: Sevilla vs Real Betis Live TV Information (Match starts 9.05 pm CET, 8.05 pm GMT, 1.35 am IST (Friday morning), 4.05 pm ET):
Europa League: Sevilla vs Real Betis Online Live Streaming Information (Match starts 9.05 pm CET, 8.05 pm GMT, 1.35 am IST (Friday morning), 4.05 pm ET):