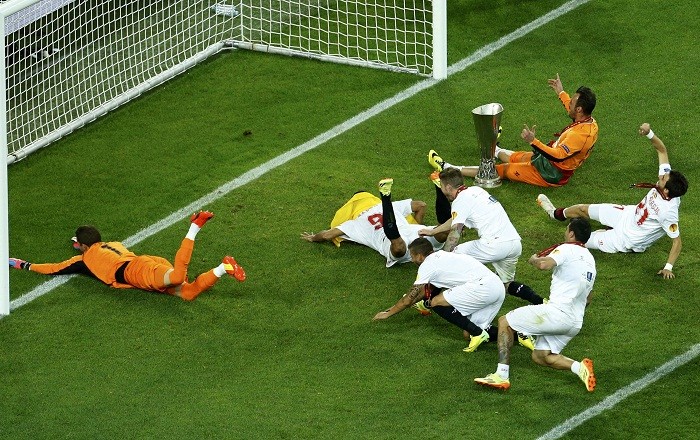 Benfica just cannot seem to get over the line when it comes to a European final. For the second year in a row, the Portuguese side suffered heartbreak, with Sevilla this time grabbing hold of the title via a dramatic penalty shootout.
No goals could be scored past either goalkeeper in what was really quite an exciting encounter through the 120 minutes, with Sevilla showing enough resilience and strength in the lottery of the shootout to take the Europa League title back to Spain after a 4-2 result.
Oscar Cardozo and Rodrigo were the unfortunate ones to miss penalties for Benfica, with Sevilla holding their nerve to seal their third crown in Europe's second tier competition.
"Benfica were -- like us -- fitting finalists," an elated Sevilla manager Unai Emery said. "The game was quite even for large parts while towards the end they gave a harder push. You could really see the tiredness out there, the physical niggles.
"If there is one thing we have learned how to do, it is to suffer. The players were prepared for this. I dedicate the win to my family and friends, the technical staff and the players who deserve this for their hard work and dedication."
Emery said it was a perfect finish to Sevilla's return to Europe after a two-year gap. "Our team were united in difficult moments tonight," he added on Wednesday night.
"This is a competition that our fans love because we had won it two times before. We have worked really hard because we felt the responsibility to win. I'm not sure who were the better team, but both fought hard.
"Sevilla hadn't played in European competition for two years so we wanted to do something special. We knew it was going to be hard but we were desperate to reach the final. It's wonderful to reach a final and win it. For me and the people who know me it has been a process in which I have learned a lot."
Benfica, who have now suffered eight straight defeats in a European final, will feel like they have been hit by a truck, run over by a train and been in a plane crash all at once, at the moment, after yet again failing to find that extra something so necessary in a major final.
Chelsea had broken their hearts with a late goal in last year's Europa League final, and a loss via the penalty shootout in Turin only rubs a little more salt into the now gaping wounds.
"It was a great final even though there were no goals," Benfica manager Jorge Jesus said. "It was an open game. Sevilla started better but as the match progressed we improved and were the better team. We showed our power and had a number of opportunities to score but weren't able to.
"In extra time, the team that played with more belief ended up winning. The best team did not win the Europa League. I congratulate my players and there is nothing I can criticise. We leave with our heads held high and there is no point dwelling on this."
Benfica will look for some solace in the Portuguese Cup final, which they play against Rio Ave on Sunday. "We need to prepare for the final on Sunday against Rio Ave as we must win it," goalkeeper Jan Oblak told UEFA's official website. "I think we played better than Sevilla but unfortunately luck was not on our side."