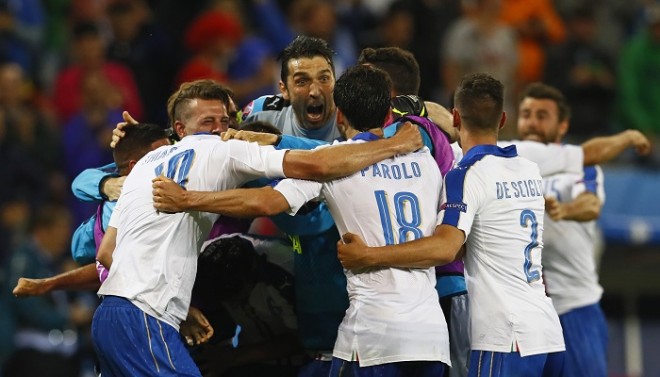 Belgium came into their Euro 2016 opening match as the best-ranked team in Europe, filled with a host of creative and defensive stars, capable of taking their country to the European Championships title. And then, like they have in the past, they realised the difference between competition football and the rest. When it comes to tournament football, there really are very few teams better than Italy, and on Monday in Lyon, Belgium ran into an Italian side in complete control of what they needed to do.
Defending brilliantly and finding the goals at the right time, Italy outclassed a Belgium side, who had way too many players put up below-par performances, 2-0, with goals from Emanuele Giaccherini and Graziano Pelle. In a big match like this, their opening match of Euro 2016, you really need every single one of those 23 players in the squad to play to their optimum levels; Italy did that, and then some, Belgium did not.
Two of the most disappointing players on the pitch from a Belgium perspective was Kevin De Bruyne and Romelu Lukaku. While De Bruyne looked like he was just trying too hard to impress and show he is one of the best playmakers in the world now after a terrific season with Manchester City, Lukaku had one of those nights which causes him to polarise opinion -- Is he a world-class striker or just a decent one, who, every now and then, has a wonderful day?
"Lukaku didn't have a great night and De Bruyne can do better too, but now is not the time to talk about that," Belgium manager Marc Wilmots told UEFA's official website. "We need to club together to qualify for the last 16.
"I don't know how to answer [De Bruyne's poor performance]. If I had an answer, I would give it. Maybe he was tired after a long season. He was prepared for this game and I think Kevin has given so much for the national team over the last four years and is always capable of scoring from a freekick or delivering a killer ball."
Belgium now need a win over the Republic of Ireland to get back on that last 16 course, and while they are more than capable of doing that – such is the talent at their disposal – the Irish will gain some confidence from that Belgian performance.
Sweden, who drew 1-1 with Ireland in the earlier game on Monday, will be a little worried about Italy, though. As good as Zlatan Ibrahimovic is, even the great man will struggle to get past this wonderfully-drilled Italy rearguard, even if they rode their luck at times against Belgium.
"I've been repeating from the beginning – and I'm not one to tell lies – that this is a group first and foremost of men, and then of footballers," Italy manager Antonio Conte said. "That's important because in a tournament like this you need an alchemy of people who get on well together, and the biggest satisfaction for me is to see how happy they all were, including those on the bench. There's a very good spirit in this squad.
"Having said that, we've got to be happy today, a bit happy tomorrow and then we have to prepare for Sweden because the memory of two years ago (at the 2014 World Cup) is still fresh, when we did well against England and then lost [to Costa Rica]. That's a wound which remains in the minds of our players and fans."