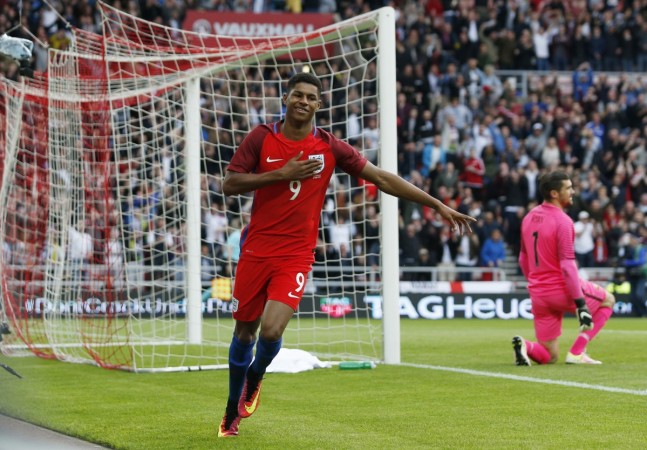 Manchester United revelation Marcus Rashford, on Friday, became the youngest player ever to score for England in his senior team debut game. The 18-year-old was on target as the Three Lions beat Australia 2-1 in an international friendly match at the Stadium of Light.
Rashford has been provisionally named in the 26-member squad by England football team head coach Roy Hodgson, but will he make the cut in the final list of 23 players? That remains to be seen now. With Hodgson having confirmed that Fabian Delph will not make the final squad, the question remains, which two other players would miss the flight to France for the European Championship, kicking off on June 10.
Hodgson has to send the list of the 23-member squad to the UEFA latest by May 31.
"I've got until Tuesday [to decide on the final squad]. I said in the press conference [on Thursday] that he [Rashford] certainly would not be out of place in anybody's 23, but I've got difficult decisions and choices to make," Hodgson was quoted as saying by ESPN FC to ITV Sport. "I don't intend to tell anyone tonight about my thoughts on the subject."
Hodgson also lavished praise on the United forward, who volleyed home a powerful strike from eight yards out in as early as the third minute of the match, to give the home team the lead.
"I'm pleased for him. He was obviously tired a bit in the second half but that's pretty normal when you're playing your first game," Hodgson said of Rashford. "What a debut. You asked me before the game if I thought he would be up for it or capable of dealing with the situation and I think we got a resounding 'yes' to go with that question."
Rashford played the first 63 minutes of the match on Friday. He is only behind former Liverpool forward Michael Owen (18 years and 164 days) and Wayne Rooney (17 years 317 days) in the list of the youngest scorers in an England shirt.
Check out his goal for England: