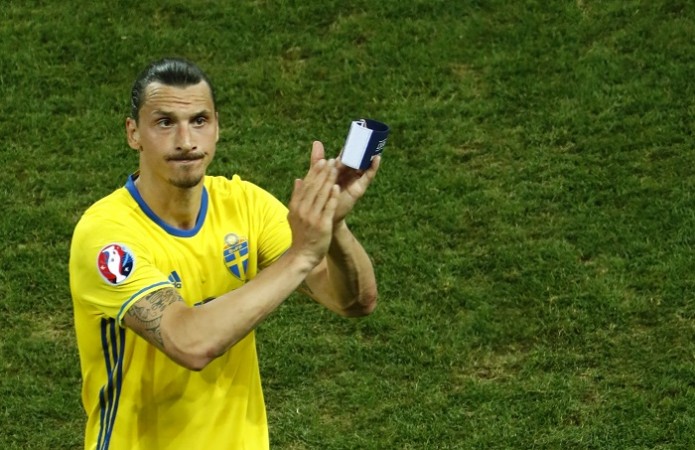 Zlatan Ibrahimovic will look back at Euro 2016, his last major tournament in international colours, and think of what might have been, of the things he might have changed, the goals that might have flowed, the wins that he might have inspired for Sweden. At the end of the day, Ibrahimovic, after announcing he will retire after this tournament in France, prior to the must-win game against Belgium, failed to find that magical touch of his to inspire his country to one more win, and as a result seeing his career as a Sweden player come to an end.
In a match that had plenty of action, Belgium were the ones who struck that one goal, with Radja Nainggolan smashing a thunderbolt in the 84th minute to end Sweden and Ibrahimovic's hopes of progressing to the last 16. In the end, this was a disappointing tournament for Sweden, a Euro 2016 in which they only managed to get shots on target in their final group game; a tournament in which Zlatan Ibrahimovic could not bend matches to his will, like he so often does.
As much as this early exit from Euro 2016 would have hurt, Ibrahimovic can look back at a wonderful career, a career in which he scored 62 goals from 116 matches, with his national team manager Erik Hamren leading the tributes.
"I hoped Zlatan would have had a better finish," Hamren told UEFA's official website, before also mentioning midfielder Kim Kallstrom and goalkeeper Andreas Isaksson, who are also retiring.
"The same goes for Isaksson and Kallstrom, who have been very good for a long time and who are also ending their Sweden careers.
So, will there ever be a player like Ibrahimovic? Hamren does not think so. "Unearthing a new Zlatan? No, he is special, he is unique," the Sweden manager added. "I don't think that in a small country like Sweden you will find another player like him."
Marc Wilmots would have been relieved to see his team finally find that goal they needed to ensure there would be no hiccups to last 16 qualification, but even the Belgium manager was all praise for the 34-year-old striker.
"I said bravo to Zlatan Ibrahimovic for his career," Wilmots said. "I was a player myself and know how difficult it is when you finish with the national team. You have to be careful with him because he is very intelligent. Sometimes he drops deep and is then one on one against a central defender."
One of the players Ibrahimovic is likely to come up against quite often next season is Belgium playmaker Eden Hazard – assuming, of course, he does sign for Manchester United as expected – and the Chelsea man has no doubts there is plenty left in the Zlatan tank at club football.
"Zlatan Ibrahimović has done a lot of great things in his career and would have wanted to go further here," Hazard, who picked up the assist for the Nainggolan goal, said. "Our objective was to qualify, but unfortunately he is now eliminated. He will remain a great player and still has a lot to offer at club level."