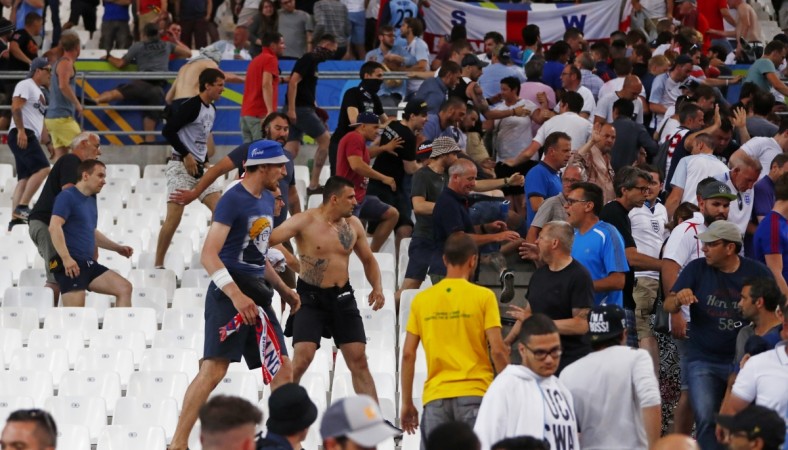 The UEFA have slapped the Russia national football team with a fine of 150,000 euros (nearly £120,000) on Tuesday over crowd violence. The fans of England and Russia were involved in hooliganism during their Euro 2016 opener on June 11 in Marseille, which ended 1-1.
The side, coached by Leonid Slutsky, have also been handed a suspended disqualification. The UEFA has stated that the team will be thrown out of the tournament this year if there are more instances of crowd violence in their next set of matches.
It was also reported earlier in the day that groups of Russian fans were being deported from France following their behaviour and repeated instances of violence. The incidents left at least 35 people injured, most of whom were England fans. 20 people, including six England fans, have also been arrested following the violence.
Russia next take on Slovakia on Wednesday in Lille, France.
The English Football Association (FA) Chairman Greg Dyke, meanwhile, has expressed "serious concerns" about security in Lille, where England and Russian fans could be set for a meeting once again. The Three Lions take on Wales on Thursday in Lens, not very far away from Lille.
The full UEFA statement:
"The independent UEFA Control, Ethics and Disciplinary Body (CEDB) met today in Paris to deal with the disciplinary proceedings opened against the Russian Football Union (RFU) following the incidents which occurred inside the Stade Velodrome in Marseille, at the UEFA EURO 2016 match against England on 11 June (1-1).
Charges relating to crowd disturbances, use of fireworks and racist behaviour had been brought against the RFU, and the CEDB decided to impose the following sanctions:
• A fine of €150,000.-
• A suspended disqualification of the Russian national team from UEFA EURO 2016 for the crowd disturbances. In accordance with Article 20 of the UEFA Disciplinary Regulations*, this disqualification is suspended until the end of the tournament. Such suspension will be lifted if incidents of a similar nature (crowd disturbances) happen inside the stadium at any of the remaining matches of the Russian team during the tournament.
The decisions of the UEFA Control, Ethics and Disciplinary Body is open to appeal.
This decision only relates to the incidents which occurred inside the stadium and are therefore under the jurisdiction of the UEFA Disciplinary Bodies."
(Courtesy: UEFA website)