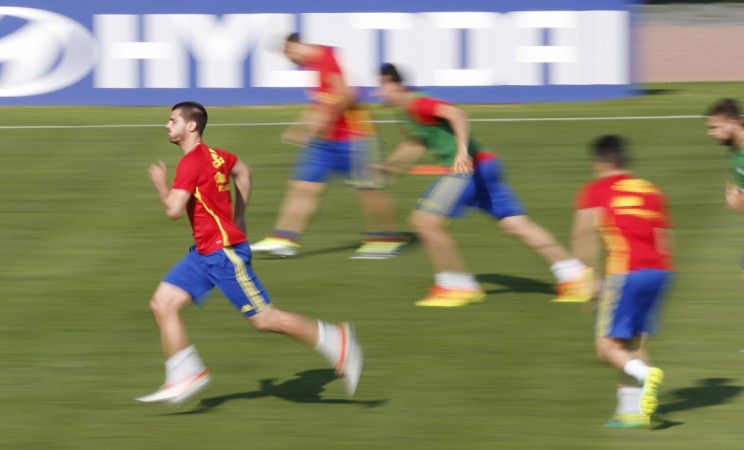 The scintillating matches from the group stages of Euro 2016 have thrown up some predictable teams and some unexpected teams in the round of 16 of the competition. One thing is for certain that the teams who have made their way so far have genuinely earned it.
Who would have expected Iceland and Northern Ireland to seal qualification to the last 16, but that is exactly how it has turned out this time around. The Euro 2016 also turned out to be the final international event we witnessed Zlatan Ibrahimovic in the Sweden national team colours.
All in all, the tournament has been successful in throwing up a lot of unpredictable and special moments so far. As it enters the business stage, expect more of the same.
Here are the Euro 2016 round of 16 schedule of matches:
Date: June 25, 2016
Match 37: Switzerland vs Poland - This is expected to be a cracker, reason being the match features two teams who can go all the way in the competition. However, only one will be able to make it to the last eight. Who would it be?
Switzerland came second from Group A and held hosts France to a goalless draw in their previous game. Robert Lewandowski's Poland meanwhile, stood second from Group C in the competition. They had held FIFA World Cup 2014 champions Germany to a goalless draw earlier.
Time: 2 p.m. BST (6:30 p.m. IST)
Venue: Stade Geoffroy-Guichard, Saint-Étienne
Match 38: Wales vs Northern Ireland - Going by their form, the Gareth Bale-led Wales are clear winners. They topped Group B of Euro 2016 above England. However, Wales have to be wary of Northern Ireland, who despite losing two games, made their way to the last 16 owing to a bit of luck.
Time: 5 p.m. BST (9:30 p.m. IST)
Venue: Parc des Princes, Paris
Match 39: Croatia vs Portugal - By the looks of it, this match is one of the biggest in the Euro 2016 round of 16. Two top teams will some good run of form will be clashing swords. Cristiano Ronaldo's Portugal are coming to the match at the back of a six-goal thriller against Hungary.
Croatia, too, have been on a great form in the tournament, bagging two wins and a draw so far. They bagged a major win over defending champions Spain in the group stages, thus topping Group D ahead of Vicente del Bosque's side.
Time: 8 p.m. BST (12:30 a.m. IST)
Venue: Stade Bollaert-Delelis, Lens
Date: June 26, 2016
Match 40: France vs Republic of Ireland - Euro 2016 hosts France didn't suffer a defeat in the group stages and the confidence is with them. Tipped to make it at least until the semifinals of the competition, Les Blues may just have a comfortable outing their opponents.
However, it doesn't look so easy as the Republic of Ireland earned a shock win over Italy, before earning a draw over Sweden.
Time: 2 p.m. BST
Venue: Parc Olympique Lyonnais, Lyon
Match 41: Germany vs Slovakia - FIFA World Cup 2014 champions Germany didn't have to sweat much to reach this stage as they topped Group C following no defeats from three games. Slovakia, therefore, one of the third-placed teams to have qualified, would have to work really hard to get past Joachim Low's men.
Time: 5 p.m. BST
Venue: Stade Pierre-Mauroy, Villeneuve-d'Ascq
Match 42: Hungary vs Belgium - The top-ranked UEFA side in the FIFA rankings, Belgium, were expected to have an undefeated record before entering the last 16, but that didn't turn out as the Red Devils bagged a defeat against Italy in their opening game of Euro 2016.
Hungary, on the other hand, shocked one and all to top Group F with zero losses.
Time: 8 p.m. BST
Venue: Stadium Municipal, Toulouse
Date: June 27, 2016
Match 43: Italy vs Spain - Possibly the biggest one to watch out for in the Euro 2016 round of 16. The fixture itself makes a mouthwatering reading, never mind the form of the teams in recent times. Spain's tiki-taka will be up against the Italy defence.
The Azzurri topped Group E ahead of Belgium with two wins, while Spain stood second from Group D with a similar record in the group stages.
Time: 5 p.m. BST
Venue: Stade de France, Saint-Denis
Match 44: England vs Iceland - The Three Lions progressing to the round of 16 of the competition was more or less expected, but Iceland joining them at this stage was not. Some Iceland players have mentioned that facing England was a dream come true and as things go, the fairytale that Iceland are brewing, doesn't seem to stop for now.
Roy Hodgson's side better be careful.
Time: 8 p.m. BST
Venue: Allianz Riviera, Nice