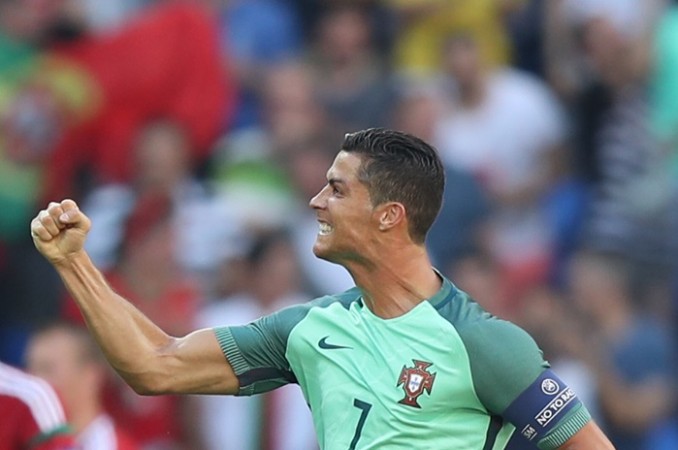 Cristiano Ronaldo is someone who likes to break personal records – how much those records mean to him, is usually visible on his face. So, to join Michel Platini on nine goals for the most in European Championships history would have felt nice for the Real Madrid man. However, this time, what would have felt sweeter is the fact that, that goal helped Portugal reach the final of Euro 2016.
Portugal put in their best team performance of Euro 2016 in the semifinal in Lyon, thanks to a special header from Ronaldo, which was followed by he-didn't-quite-mean-it-but-he-will-take-it assist from the captain.
"It's nice to break records but the most important thing was to reach the final, for the coaching staff and all my teammates," Ronaldo told UEFA's official website after silencing his critics with a brilliant performance. "I have broken many records and I will continue to do so, but the important thing was we made it through to the final."
The result of that performance was a 2-0 win over Wales and a place in the final for the first time since 2004. Ronaldo was only a teenager when Portugal lost to Greece 1-0, 12 years ago, and while that still probably stings, the 31-year-old knows this will be a completely different final, one where he is the leader and expected to, again, show why he is considered one of the best players in the world.
"EURO 2004 was special, I was just 18 and it was my first tournament," Ronaldo added. "Now we are in the final again and we hope we will win it. The team deserve it, I deserve it, the fans deserve it. I didn't think many people thought we would make the final but we have and that makes me very proud."
Indeed, not many would have tipped Portugal to reach the final. After three draws in the group stages, Portugal looked a disjointed unit, who did not have much to offer going forward. Everything hinged on Ronaldo it seemed – the only time, before this semifinal, the Real Madrid man found his goalscoring form, Portugal struck three goals – and relying on one man alone in such a major competition is not the ideal scenario.
However, Portugal gamely beat Croatia in the final minutes of extra time in the round of 16, before those nerves of steel, led by the great man himself, came to the fore in the penalty shootout victory over Poland.
With Wales coming into this match on the back of a terrific performance against Belgium, the Portuguese looked like falling in the semifinal hurdle again, but, after a cagey first half, one leap, a leap that would have made Michael Jordan stand up and applaud, completely tipped the scales in Portugal's favour.
"Portugal are not just about Cristiano Ronaldo, we are a team," Ronaldo said. "But I was able to score and I've helped the team get to the final by scoring a goal. Of course, we are a team. The national team are a unit. That's how we've been acting since the start.
"I've tried to help out, not just by scoring goals but by fighting, scrapping. To get to the final you have to have all 23 players in the squad fighting. I'm very happy. I believed in my heart that we'd go far. Maybe it didn't start as we wanted to but this is not a 100m race. This is a marathon."
Ronaldo certainly gave it his all in this match – he was at the back helping the Portugal defence out every time Wales had the ball in the second half – and Portugal will need another masterclass from their talisman. Because in the final, they will be up against either Germany or France, and it does not matter which of those two teams qualify, Portugal will be seen as the underdogs.
If there is one player capable of single-handedly winning a final for his team, however, even against superior opposition, it is certainly the man, who at 31, shows absolutely no signs of stopping or being stopped.