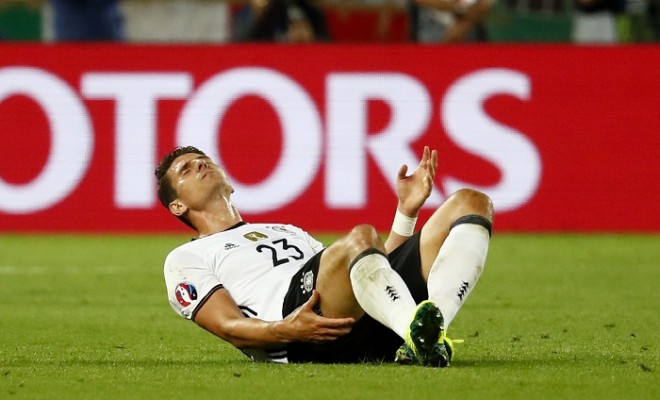 Germany will be without their only proper out-and-out striker for the rest of Euro 2016, after Mario Gomez was ruled out of the tournament with a hamstring injury. Germany play France in the semifinals of the European Championships on Thursday.
Gomez impressed in the 3-0 thumping of Slovakia in the round of 16 and started the quarterfinal against Italy, before being forced off in the 72nd minute for Julian Draxler. Scans have revealed a tear in his hamstring, leading to the unfortunate news.
"[Gomez] has performed very well at Euro 2016 and helped the team not only with his goals," Germany manager Joachim Low told the tournament's official website. It is very bitter to lose important players, especially at this crucial stage of the tournament. I am especially sorry for Mario."
Gomez was pivotal in Germany's opening goal against Italy, when sent Jonas Hector through on the left, before the fullback's deflected cross was finished off by Ozil. That goal also showed Gomez's holding up powers, and with no other really physical striker in their lineup, Germany will struggle to bring that aspect into play for the semifinal against France in Marseille.
However, Gomez was not a starter in Germany's first few games, with Mario Gotze taking up the position as a "False 9", and Low might have to go for a similar solution, unless he decides to go with Draxler as the wide man and pushes Thomas Muller to the middle.
"For us, (the loss of Gomez) means accepting the new situation and finding solutions," Low added. "And we will do. The squad is full of quality and I have full confidence in all my players.
"I have full confidence in all our players. We will be ready for Thursday and are looking forward to the semi-final in Marseille."
Apart from Gomez, Germany will also be without Mats Hummels for the semifinal, after the centre-back picked up his second yellow card of the tournament, which means a one-match suspension. Bastian Schweinsteiger and Sami Khedira are also major doubts, after picking up injuries in the penalty shootout victory over Italy.