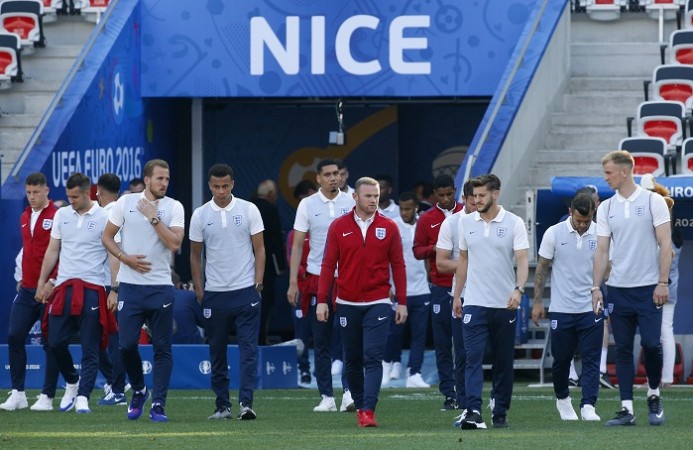 England might have qualified for the Euro 2016 round of 16, but they are yet to hit top gear in the competition. They finished second in the group, but they need to play better football in the knockout stages if they are to win the silverware. But first up, they need to battle it out against a defiant Iceland side in the pre-quarterfinals in Nice on Monday.
Click here for confirmed England vs Iceland starting XI
Iceland, though a nation comprising just a little over 3 lakh people, is becoming one of the most loved teams in the competition. They have been superb in Euro 2016, defeating Austria and drawing level against Portugal. But Iceland have not played a team like England in the competition as the Three Lions possess an incredible number of quality stars.
Though England have high-profiled players, they have not fired as they would have liked to in the Euro 2016. This game against Iceland gives them a wonderful opportunity to prove their mettle, and send warning signs to other teams as well. With England being the favourites to win the clash, and the winner set to take France in the quarterfinals, Roy Hodgson's men need to get their game right straight away.
England will not get any second chance in the group stages. No excuses will be acceptable if they fail to defeat Iceland in Nice. Hodgson, hence, is mindful about the need for a positive result in the knockout stages. The boss will be keen to get his best players on the pitch, and most importantly that striker, who can score goals for England.
"Tomorrow's (Today) result will be significant [for me], but most of all for the team and the country. We want to stay in the tournament, we're good enough, but we must get results and that starts tomorrow," UEFA's official website quoted Hodgson as saying.
"I've been happy with the strikers I've gone with. You never know how someone is going to play, but you do know what you're selecting. You see them in training and you try to choose the best possible players for that game. I'm fortunate that if something isn't functioning as I would like, we have options on the bench."
Irrespective of the players who start against Iceland for England, they need to be on top of their toes. Iceland are no way a big team at the international stage, but they are climbing in the world rankings as well. They have nothing to lose against England, as they have won hearts of football fans around the world.
But that does not mean, they will allow England a cakewalk. Iceland will come all guns blazing in the round of 16, test Rooney and co., and if things go according to plan, create history and reach the last eight.
For that to happen, Iceland will need their defence to once again shine in France, and their offensive players will also need to be strong, and create chances for a goal. However, they have showed some strong grit, which will once again be on display against England. They are always a strong physical side, and dangerous during set-pieces and counter attack, which can ask England serious questions.
Gylfi Sigurdsson, who will be a central figure for Iceland, considers this match to be dream for him, and is excited for the mammoth clash.
"I've dreamt about this since I was a kid, to play against England and to do it in the final 16. I think all the lads will be ready to play tomorrow. We're full of excitement, the game is near and hopefully we will do well tomorrow," Evening Standard quoted the Swansea player as saying.
"We're looking forward to a very exciting game, one that I hope we will enjoy."
Can Iceland create a wonderful chapter in their football history in Nice?
Where to watch live
England vs Iceland round of 16 game Euro 2016 match is set to begin at 9 p.m. local time(12:30 a.m. IST, 8 p.m. BST, 3 p.m. ET). All the live streaming and TV information is below.
India: TV: Sony ESPN/HD. Live Streaming: Sonyliv, ESPN live.
USA: TV: ESPN 2 and ESPN 3. Live Streaming: Watch ESPN.
UK: TV: ITV 1 UK: Live Streaming:ITV Hub. Radio:BBC Radio 5 Live.
Iceland: TV: SiminnSport
France: TV: Bein Sports 1 and 2. Live Streaming: Bein Sports Connect.
Germany: TV: SRF zwei, Sport 1.FM, WDR. Live Streaming: ARD Das Erste.
Austria: ZDF, HRT 2, ORF 1. Live Streaming: ORF TV.
Canada: TV: TSN and RDS. Live Streaming: TSN TV.
Australia: TV: Bein Sports and SBS One. Live Streaming: Bein Sports Connect.
China and Hong Kong: TV: CCTV and LeTV.Latin America: TV: DirecTV.
Thailand: TV: Channel 3.
Singapore: TV: Eleven Singapore and Singtel. Live Streaming: Singtel Go.
Malaysia: TV: Astro.
Middle East and North Africa: TV: Bein Sports Max. Live Streaming: Bein Sports Connect.
South Africa and Sub Saharan Africa: TV: SuperSport 3. Live Streaming: SuperSport.