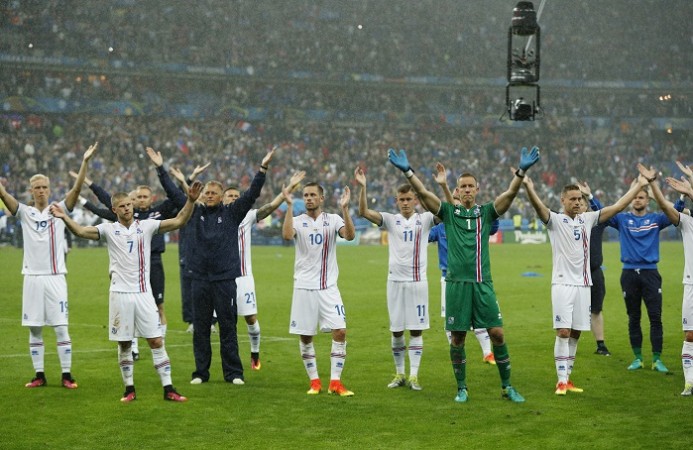 France played some outstanding football to end Iceland's fairytale run in Euro 2016, with the hosts winning the quarterfinal match 5-2 on Sunday. This scoreline might have been embarrassing for most losing teams on such a grand stage, but Iceland can exit the competition with their heads held high, after some impressive performances en route to the last eight.
To be fair, not many would have predicted Iceland to even progress from the group stages, but they did so with flying colours. They finished second in their group, ahead of Portugal and Austria and only behind Hungary, despite finishing with the same points. Iceland also showed the exit door to one of the title favourites England in the round of 16. This victory announced their arrival on the world stage in a grand style.
However, when they came up against France, the hosts' players looked in stupendous form right from the first whistle, playing an attacking game and scoring four goals in the first half. Despite being 4-0 down, Iceland fought bravely in the second 45 minutes, and tested the French team, who looked a bit wobbly when the visitors began to attack. Iceland scored two goals, and conceded one in the second half.
It is such character and a never-give-up attitude of Iceland in Euro 2016, which won hearts of football fans all over the world. One of their influential players, Gylfi Sigurdsson, is extremely proud of what his team achieved in Euro 2016. With such performances, he hopes for more good showings in future major events.
"We're very proud. It's been a fantastic tournament, something special for a small team like us, we probably achieved something no one expected us to," Eurosport quoted Swansea player as saying.
"It gives the kids back home hope that something like this is possible, and hopefully we'll be back in another finals. Ten or 15 players are a really good age, and we're already looking forward to the World Cup. Hopefully the future will be bright for Iceland."
For a country with population of around 3.3 lakhs, it is a stupendous accomplishment to reach the quarterfinals, and they are one of the big success stories of 2016. What makes their achievement look even more magical is that they do not possess world-class stars, unlike major teams in the competition. Iceland were dependent on each and every player in the squad, and they gelled as a unit to face all teams head on.
Their style of play was somewhat different, where they were a major threat from setpieces, along with skipper Aron Gunnarsson's long throw-ins into the danger area. They also loved to play counter-attacking football, catching teams unaware. Besides the on-field skill, which their players possessed, their fans were one of the most passionate ones, supporting their team irrespective of the result.
Iceland captain Gunnarssson also praised the fans for their amazing support throughout the Euro 2016.
"The fans have been fantastic. They are still singing (after the loss to France), it's unbelievable. The French have all left. They are still here. It just shows what we put into this," Gunnarsson said after the game on Sunday.