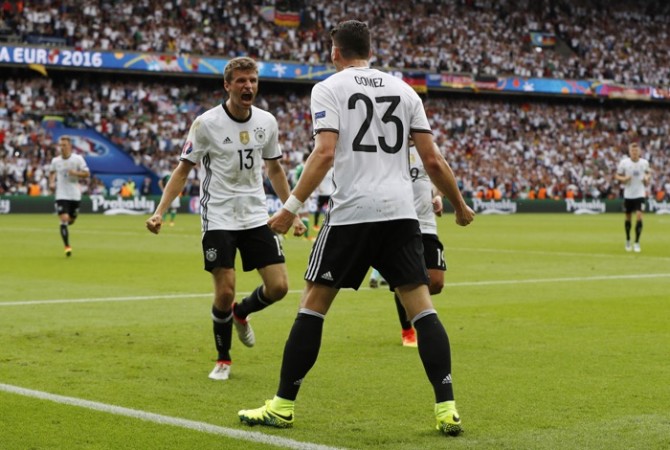 Germany cruised into the Round of 16 of Euro 2016 after beating Northern Ireland in their last game of Group C at Parc des Princes in Paris on Tuesday. The scoreline could have been way better for Germany if they would have brushed their finishing skills ahead of their clash againt Northern Ireland.
Mario Gomez scored the only goal for the world champions against Northern Ireland on Tuesday.
Germany have missed approximately a dozen chances against Northern Ireland on Tuesday. Mario Gotze, Mario Gomez, Thomas Muller have all missed their share of chances of putting the ball into the back of the net.
However, Germany did get their noses ahead in the Euro 2016 Group C game against Northern Ireland, when Mesut Ozil and Muller set it up for Gomez inside the box in the 30th minute of the game.
In fact, Germany have missed sitters throughout this game. The world champions so to say were not in their prime against Northern Ireland in Paris on Tuesday.
Right back Joshua Kimmich was outstanding throughout the game. His incisive passing and those overlapping runs were something to look at. The Bayern Munich player put in a number of crosses and passes inside the penalty box area but the Germany forward failed to convert them into goals.
Michael McGovern made some outstanding saves for Northern Ireland. If he would not have made those saves, Germany would have scored at least four-five more goals.
Northern Ireland too had a number of chances but Germany kept their defence intact and did not let any of the Irish forwards go through them.
In spite of this loss, Northern Ireland can still make it to the Round of 16 of Euro 2016 as one of the third-placed teams of the tournament. This has been a wonderful tournament for Northern Ireland and if they make it to the knockout stages, it will be a great achievement for Michael O'Neill's side.
Germany manager Joachim Low had criticised his forwards after their last game against Poland. It seemed that he was not really happy with them during their encounter against Northern Ireland as well.
Germany have topped Group C with Poland following next.
Click here for the updated Euro 2016 points table.