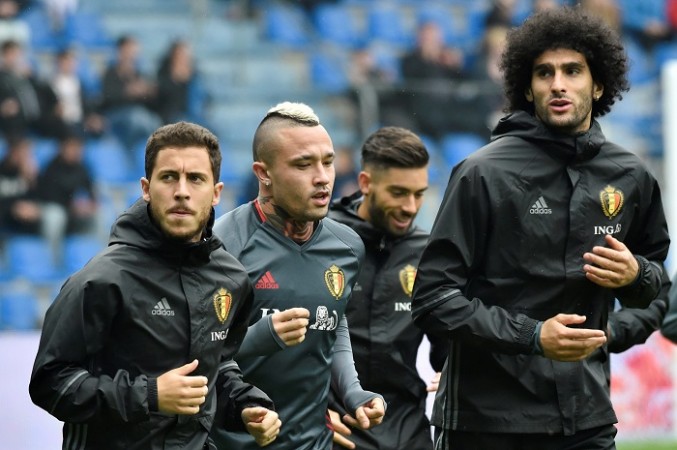 Belgium, Italy, Republic of Ireland and Sweden – four teams loaded with talent, four teams that will want to go as far as possible in Euro 2016. So, expect this humdinger of a Group E to provide plenty of excitement, hopefully, filled with goals and last-minute, who-will-qualify drama.
Here is a quick preview of all the four teams of Euro 2016 Group E, with what to expect and the key players.
Belgium: The multi-talented side, filled with world-class stars and soon-to-be world-class players. Their big match temperament is a bit suspect, though, while Belgium, despite having an abundance of talent, haven't quite been able to gel as a unit. Making sure they play to their potential will be Marc Wilmots' biggest job, because no matter where you look in the squad, there is ridiculous talent, and that is despite Vincent Kompany's absence through injury.
Key players: Eden Hazard will want to show he is still one of the world's brightest talents after a forgettable season with Chelsea, even if the Belgium captain seemed to come back into form in the tail-end of the season. Kevin De Bruyne made the crazy money Manchester City paid for his services look like a bargain, and the playmaker will be want to show why he is slowly becoming one of the best attacking midfielders in the world.
Italy: Defence is what the Italians will bank on again, even of Antonio Conte likes his team to play effective, attacking football as well. Italy tried out several formations during the pre-Euro 2016 friendlies, and what remains certain is that the likes of Leonardo Bonucci, Andre Barzagli and Giorgio Chiellini will act like a near impenetrable wall at the back. Not too many are tipping Italy, who still have Gianluigi Buffon as their No.1 goalkeeper, for the title this time, but they are a team that always thrive on the big occasion, and being in a difficult group might just get the best out of them.
Key players: Without a prolific centre-forward, most of the goalscoring hopes will rest on Graziano Pelle, who needs to shake off his indifferent form with Southampton last season and find his scoring boots. Lorenzo Insigne is one of the few players in this Italy squad who really excites, and the Napoli forward needs to be at his best if Italy are to trouble opposition defences regularly.
Republic of Ireland: You think of Ireland, and you get that "ah, another team led by Robbie Keane (cannot believe he is still playing), who will not be quite up to the mark." While Keane is, again, in the squad for Euro 2016, he is not the main man anymore. The captain is expected to start from the bench, at least in the early stages, with Shane Long providing the cutting edge up front. A sum-is-better-than-all-of-its-parts team, but not one that will necessarily excite.
Key players: Shane Long: Needs to be in his unplayable zone throughout the tournament for Ireland to make a dent in Euro 2016. James McCarthy and Glenn Whelan will play a vital role in central midfield.
Sweden: Yup, all bout that man, that man who goes by the name of Zlatan. Ibrahimovic remains the most important player for his country, scoring 11 of Sweden's 19 goals in qualifying. It goes without saying, Sweden's hopes of making it to the knockouts from Group E rest on Ibrahimovic. Sweden will take a lot of confidence into this Euro 2016 after picking up a brilliant 3-0 win over Gareth Bale's Wales.
Key players: Yeah, obvious again. Ibrahimovic scores, Ibrahimovic creates, Sweden do well. John Guidetti is another who could have an impact.