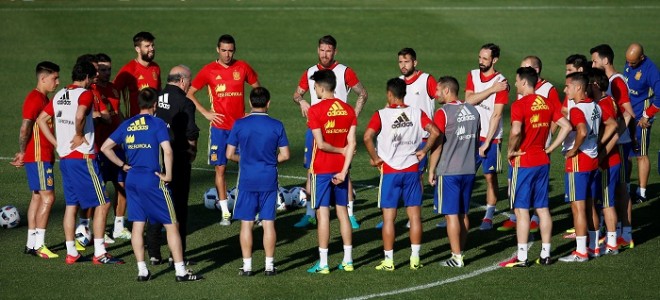 Euro 2016 will start in another three days in France and the excitement level has gone over the roof. The teams are gearing up for the European Championships and looking forward to making an impact.
As the start of Euro 2016 inches closer, here is a quick preview of Group D.
Spain: The defending champions will look to win the Euro Cup for the third time in a row. They had first clinched the title back in 1964, before lifting the trophy in 2008 and in 2012. They are the favourites to progress as group winners, but it is not going to easy when you have opponents like Croatia, Turkey and Czech Republic in the same group.
Considering their early exit from World Cup 2014 in Brazil, quite a few Spanish fans will be worried looking at the other nations in Group D of Euro 2016. However La Roja won nine out of their 10 qualifying matches for the European Championships and cannot be underestimated at any cost. They still remain firm favourites to win the tournament.
Key players: Andres Iniesta: The midfield maestro will want to come up with a powerful performance for his side. He was a member of both the 2008 and 2012 European Championship wins and he would love to relive the moment in this tournament as well. Very few players can thread passes through defenders like Iniesta, and he is surely going to be one of the key players for Spain in Euro 2016.
David De Gea: The man with a golden pair of hands. Spain Coach Vicente Del Bosque will have a tough time in deciding whom to play between De Gea and the veteran Iker Casillas. But considering the form, it is obvious, Del Bosque is going to opt for De Gea in between the sticks.
Croatia: One of the most balanced sides in Group D of Euro 2016, Croatia can put up a tough challenge for Spain. If the players in the Croatian team play to their potential, there is no reason why they cannot reach the quarterfinals of Euro 2016. They had reached the last-eight back in 1998 and in 2008 and they will look to put up a better show in Euro 2016.
Key players: Mario Mandzukic: The Juventus striker has had a good club season and was in goalscoring form during the qualifiers. One should not be surprised if he adds his name in that goalscoring list in no time. He is a terrific finisher and Croatia will need him to fire if they want to progress to the knockouts of Euro 2016.
Luka Modric: The Real Madrid midfielder has just won a Champions League title with his club and will be high on confidence. He will be a crucial man in that Croatian midfield along with Mateo Kovacic and Ivan Rakitic.
Turkey: One will not expect much from this team, but they do have the potential to go deep in Euro 2016. They have done it in the past as they had finished third in Euro 2008 as well as in the 2002 World Cup in Germany. The only thing that Turkey lack is a good finisher. Otherwise, they have a good mix of youth and experience, players who can give Spain, Croatia and Czech Republic a run for their money.
Key player: Arda Turan: The Barcelona midfielder want to guide his nation to the knockout stages of Euro 2016. Turan is not only strong as a midfielder, but he also has a knack of scoring goals, which makes him a special player to have on the field.
Czech Republic: Not to forget, this was the team that defeated the Netherlands twice and thwarted their path to the finals of the Euro 2016. However, Czech Republic have not had a great time on the pitch in the last few matches, even if they did gain some confidence after they beat Russia 2-1 in the last international friendly match a few days ago.
Key player: Petr Cech: The Arsenal goalkeeper will be one of the crucial players for Czech Republic, if they are to do well in Euro 2016. Cech has a lot of experience, and with this possibly being one of his last international tournaments, he will want to make it count.