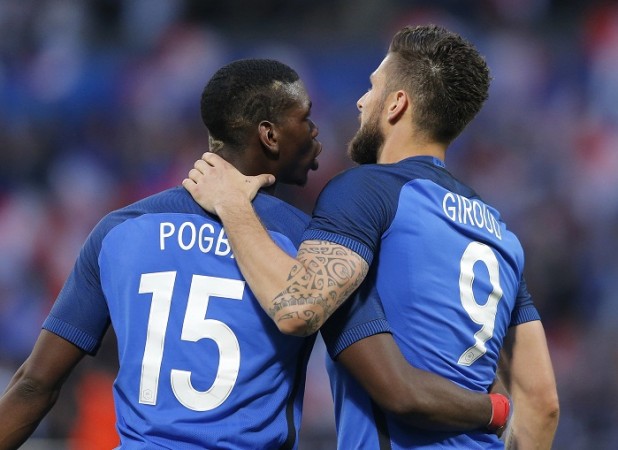 The mega spectacle in France -- Euro 2016 – is expected to produce some scintillating moments, flashes of brilliance and also some heartbreaking moments. The first match of such competition is always a significant one as it could set the tone for the rest of Euro 2016, and with hosts France taking on Romania at the Stade De France on Friday, the atmosphere will be electrifying.
As soon as the first whistle goes, it will boil down to the players who have trained and prepared for the quadrennial event for some time, to bring glory to their respective nation. France and Romania players will have a similar objective in Paris, get off to a winning start, and make Euro 2016 an integral part of their football history.
France are one of the serious contenders for Euro 2016, and are favourites to defeat Romania in the opener, but the visitors will be keen to stun the home team on Friday.
Here is a look at some players, who could make a difference in the Euro 2016 first match.
France
Olivier Giroud – With Real Madrid striker Karim Benzema left out of the France squad for Euro 2016, Giroud will lead their attacking line in the competition. Though the striker might have been criticised, he has the knack of scoring goals, which silences critics. To be fair, Giroud is a decent finisher, and a complete forward, who is good in both the air and his feet as well. After having scored 15 goals for France so far, he will be pleased to get past the 20 international goals mark after the quadrennial event ends.
Paul Pogba: After an incredible season with Juventus, the Frenchman needs to showcase some of his key skills in front of his home fans against Romania. His technical and powerful game in the centre of the park for France will be of utmost importance for France in the opening game. Add to it his vision of providing some quality passes to their forwards, makes him one of the incredible young talent in the world to watch out for.
Romania
Vlad Chiriches – With France possessing some incredible attacking players, Romania, who only conceded two goals in the qualifying stage, will need their defenders, especially Chiriches to have a good day in the opening match. The Napoli defender played each and every minute in the qualifier, which helped his team earn a spot in Euro 2016. Against France, he not only needs to shine, but also lead from the back and inspire his team to a bright start in Stade de France.
Bogdan Stancu: He may not be a first-choice forward for many Romanian fans, but his hardwork in the field and his never give up attitude makes him a strong contender to lead the visitors' frontline in France. He is one of those Romanian players with fire in the belly, and can lift his team alone with his positive attitude. More importantly, if needed, Stancu can fly in the wings, provide space for other players to attack down the middle as well.