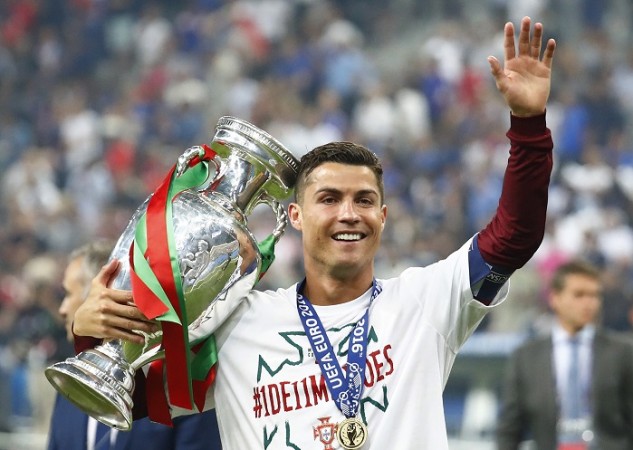 Tears poured down Cristiano Ronaldo's face at the end of the final whistle, much like it had early in the first half of the Euro 2016 final between France and Portugal, but this time the tears would have felt a lot better, as the sheer joy of seeing his team trump the hosts in the final of a major tournament brought all the emotions out again.
It looked like being a final that Portugal would not want to look back upon too fondly when Ronaldo was forced off with a knee injury midway through the first half, with the Real Madrid man unable to hold back his tears as his teammates looked on shellshocked, wondering how they were now going to win the title without their talisman.
However, Portugal recovered from that blow in outstanding fashion, not letting their concentration at the back drop for a single minute, with Pepe leading from the front in keeping out the much-vaunted France attack.
While Portugal would have taken a penalty shootout as the minutes wound down in extra time, they were sent into ecstasy when Eder, egged on by Ronaldo, who insisted he was going to score, produced the greatest moment of his career.
"We went through a difficult spell after Ronaldo's injury, because he's the best player in the world and an important player for us," Eder, the goalscorer, said. "But after that he still gave us all his strength and bravery, and we got this important victory, both for him and all of Portugal."
Ronaldo, understandably, was overwhelmed after seeing his dream of winning a title with his national team finally turn into a reality.
"This is one of the happiest moments of my career," Ronaldo said after the 1-0 win which helped Portugal create history at the Stade de France on Sunday. "I've always said I wanted to win a trophy with the national team and make history.
"I'd like to thank my teammates, our coach, our wider team at this Euro 2016, and the Portuguese people cheering us on.
"This is a unique moment for me. It's unforgettable."
It looked like he would much rather forget this night when a Dimitri Payet challenge caused pain, so much so that, despite a couple of efforts to run the injury off, he couldn't, leading to the captain being substituted in the 23rd minute.
As the clock ticked, Ronaldo, after some considerably treatment on his left knee, came back to the dugout and took on the chief cheerleading duties, motivating his players, giving them instructions and even doing a great Sir Alex Ferguson impression as the final minutes ticked towards Portugal's glory.
"I felt it would be him who would resolve the game in extra time," Ronaldo said of Eder. "I am not a wizard or a visionary but I always follow my feelings.
"Today I felt sadness and happiness. What I can say is that it was one of the happiest moments of my life. I cried."