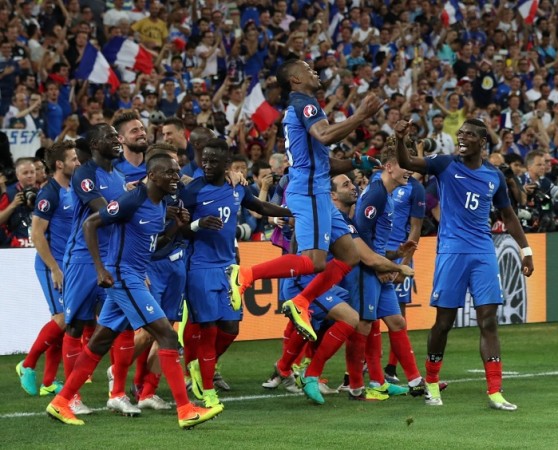 Portugal showed great heart and courage to stun the hosts, France, and win their maiden European title 1-0 on Sunday. Portugal came into this final as underdogs, and an early injury to skipper, Cristiano Ronaldo also made their situation worse.
France did look a strong team, threatening to score, but Portugal were patient, and finally broke the deadlock in the 109th minute. Eder's wonder strike won Portugal the title, which brought tears on Ronaldo's eyes.
Though Eder might have scored the all-important goal, all the Portugal players needs to be applauded for their performance on the night. Goalkeeper, Rui Patricio, deserves a special mention as he made some crucial saves during the match.
France, on the other hand, could not play their stylish football that they are known for, and their game in the final third was below par, which cost them the title.
That is it from me, and congratulations to Portugal for becoming the new kings of Europe.
It is all over. PORTUGAL ARE EUROPEAN CHAMPIONS. Score 1-0. Eder's 109th minute strike proved to be the winner for Portugal. Ronaldo is in tears again, and one can expect some more tears of joy from the talismanic skipper.
There are two minutes of extra time.
118' Can France make a stunning comeback? Not much time left for the game to end. Despite taking lead, Portugal are taking it to France, and playing an attacking game.
115' France going all out for a goal. There are spaces for Portugal players to work around with, and even double the lead via counter-attacking football.
112' France attack from the left wing, but the ball is held by goalkeeper, Patricio in a crowded area. That is some solid goalkeeping. He has been brilliant in the final.
109' Eder scores a wonderful goal. Long range effort on target, and that was a powerful strike from 25 yeards out. 1-0 Portugal. Eder deserved that goal after showing his powerful game, coming in as a substitute.
108' Portugal have a chance to score via set-piece, and Guerrerio's wonderful free-kick hits the crossbar.
105 minutes and no goal so far. What does the next 15 minutes have in store for fans?
1st 15 minutes of extra-time over. Score 0-0.
103' Now, Portugal earns a corner. Can they make anything out of it? Eder makes decent contact with the head, but still no goal as Lloris pushes the ball out, which is cleared by the French defender. Portugal are testing France.
101' Pogba hangs onto the ball for too long, without making much incisive movement, but earns a corner, which goes waste as Griezmann disappoints with that dead ball situation.
99' Carvalho also receives a booking.
97' Matuidi receive a yellow for foul on Eder.
94' Portugal with a free-kick, and Pepe gets a nice header, but wide off the mark. Even if that went in, it would not have been counted as the player was called offside.
93' Portugal enjoying decent possession, and we are in such stage where a single mistake here and there could their team the title.
92' Now the match will not only be about skills, but also the energy left in the players' tank. It is at this juncture subs like Gignac, Coman, Eder can make full use of their more-or-less fresh legs.
Will the match go to penalties or be decided in penalties?
The match moves into extra-time. Score 0-0
90+2' Gignac hits the post from close range. That would have been a winning goal from the substitute.
There are three minutes of extra-time.
89' Lovely ball from Sagna in front of the goalkeeper, but there are no France players to attack that goal.
86' Despite a good spell with the ball, France fail to penetrate Portugal's defence.
84' Sissoko unleashes a powerful drive, and that was another brilliant save from the Portuguese goalkepper, who has been brilliant in the final. The Newcastle United star has been the best player on the night for France, by a long distance.
Ten minutes left. Will either team score a goal in the dying minutes? Mind you, we have seen a number of teams sealing the game with last-minute goals.
80' Lloris makes a wonderful save. Nani must have taken a cross, but it was heading towards the goal, and the skipper takes decisive action and saves it. The ball was palmed away, and Quaresma's overhead kick is held by the goalkeeper.
77' Coman dictating the game from the left flank, and the Bayern player is troubling defenders with his dribbling skills and pace.
75' Giroud gets another chance at goal, but Patricio makes a great save to his left. The game has come to life in the last five minutes, with France creating chances.
74' Coman and Evra pass around in the left wing, and the former United player whips the ball to Giroud, who does not make clear contact. That was a quality ball from Evra.
72' Giroud and Coman combine well, and the Bayern player bursts into the box, and helps earn a corner.
70' France defenders come up as Griezmann takes a free-kick into the danger aera. But the ball is cleared away with ease. Portugal seems to be happy playing the game in a slow tempo.
67' Coman has looked good after coming in for Payet. The Bayern player takes a long range strike, but that was ambitious. But he has surely been lively. WIll he prove to be the difference?
65' France are making some good moves from the left wing, and Griezmann comes close as he heads the ball over the bar. That was a brilliant ball from Coman, who just came a few minutes ago. The hosts are looking better, and inching closer to the opening goal, which could be the winning one.
63' Good play in the left wing and Evra earns a corner, but Portugal have been solid at the back, not giving an inch to the French players in the danger area.
61' France need to hold the ball more, and build from there, rather than just playing the ball upfront without numbers. They need to be patient. Goals will come.
59' Griezmann uses his pace, and takes a shot with his left, but does not hit it clean from a difficult angle. Easy save for Patricio.
58' Substitution: Payet out, Coman in. Payet looked off colour tonight. Bold move from Deschamps.
56' Great ball from Mario, and France concede a corner.
53' Ball from Payet into the danger area, but Giroud cannot make any contact. The ball is high for him.
52' Cissoko has been the best player on the pitch for France. Griezmann's corner, and no France player attacks the ball. However, Patricio does not gather in one go, and grabs the ball in second attempt.
49' Payet dances his way through, but brilliant defence from Portugal denies him a shot.
48' Portugal are passing the ball well in the early stages of second half, which are good signs, but their game in the final third is yet to bloom.
One hopes to see goals in the second half.
France started the half brightly, but they seem to have slowed down the game as the match progressed. Players like Giroud and Pogba need to get involved more, and encourage rest of their players to deliver as well. Portugal, on the other hand, have looked good. They have not showed much signs of weakness, despite being without Ronaldo, who picked up an injury, resulting in his substitution. In Ronaldo's asbence, Nani needs to shoulder responsibility.
FIRSH HALF OVER. Score 0-0.
45+2' Mario plays a ball to the back-post, but there is no one to make any contact with the head. This is when Ronaldo is missed more by Portugal, who has a giant leap.
43' Two players -- Evra and Quaresma -- on the floor after clash of heads. Nothing serious, though, medics are on the pitch.
40' Payet finds some space, and takes a shot, but a good block from the French defenders in the danger area. Sagna whips the ball from the left wing, and Portugal's defence stands firm, and clears it away.
38' Nani makes a darting run, and dribbles past the French defenders, and passes in a crowded area, and a shot from their player leads to a corner. No positive result from the corner, but Portugal have not let their heads down after Ronaldo's absence. They are giving it their all.
34' Sissoko has been the biggest threat so far, and he unleashes a powerful shot, after a sharp turn. Good save from Patricio. Giroud has not been involved much. France needs him to be active.
Cédric booked for a tackle on Payet.
HIGHLIGHTS SO FAR: Ronaldo's injury, score 0-0.
30' Sissoko surges ahead, powerful run, and earns France a corner, but nothing comes out of it. France needs to be precise with such set-pieces.
28' After a quick start by France, they have also slowed down the tempo. The French players have stepped down a gear it seems or have Portugal changed gears to tackle France?
25' HEARTBREAK FOR PORTUGAL. Ronaldo has to be stretchered off the pitch. He can no longer continue after sustaining an injury earlier in the match. Now, the task has become much more harder for Portugal. Do they have Plan B?
22' What a great run by Sissoko, from the middle of the park, he drives forward, and takes a powerful shot, but to no avail. His shot goes wide. That was Sissoko's power for you.
19' Ronaldo is back.....What a relief for the visitors.
17' Oh my....Ronaldo is not looking comfortable on the pitch. He is out for treatment, but it will not be surprising to see the Real Madrid star miss the remainder of the final. Do I see tears on Ronaldo's eyes?
15' France are dominating possession, and their players have looked lively, and more ready than Portugal for the final. Barring that Nani's attempt at goal, one cannot remeber any offensive move from Ronaldo's team.
12' French defenders are tight on Portugal players, and not giving them much space. Ronaldo has not been involved much.
10' Patricio makes a brilliant save, as Griezmann's header is deflected by the goalie, and the host earn a corner. That was brilliant from France, who are looking superb. Portugal have not hit the ground running yet. Is it a case of pressure?
7' France looking sharp now, with Griezmann getting some space, and the player attempts from a difficult angle, but fails to hit the target.
6' Pogba, on the other half of the pitch, blasts another one over the bar. They need to test the goalkeepers at least.
5' Not much happened in the first four minutes. Both teams have taken a cautious approach, but Nani receives a decent chance, blasts the ball over the bar with a long-range effort.
Are you ready? Here we go
12:30: Teams are out in the middle, and there are some determined faces, keen to give their best. The national anthem of Portugal, followed by France, are done with. Now, we are minutes away from the start.
The closing ceremony is taking shape on the pitch, where the 22 players will battle it out. One hopes that the playing surface does not take much of a hit.
12:15 am: The competition started with 24 teams, and it has boiled down to two teams - France and Portugal. This is what (image below) the two teams are fighting for. Does it not look beautiful? But, to attain the most coveted trophy in Europe, both the finalists needs to come up with their best football.
11:50: Let me throw an interesting fact for all Portugal fans, who will, no-matter-what, look for Ronaldo to shine. FACT: Ronaldo has not lost in his last 14 competitive games for the national side; but France fans might say, 'records are meant to be borken'.
11:42: What an atmosphere at Stade de France in Saint-Denis already, and no prizes for guessing, which team is supported more. There are France flags flying all around the stadium. The passionate home supporters will hope to see another superb performance from their team, who have shone brightly in the knockout stages.
11:20 p.m IST: Here is the all-important starting XI for both teams. Players to watch -- Hmmm (thinking....) -- everyone needs to shine, and execute plans to perfection. Portugal cannot afford to rely on Ronaldo alone, same goes for France and Griezmann.
Hello everyone. Welcome to International Business Times, India live blog coverage of the Euro 2016 final between France and Portugal. This is Ashim Sunam here, and I will provide you with the highs and lows, along with all the drama from the title-decider, which is expected to be an entertaining encounter. We are just more than an hour away from kick-off.
How excited are you? Though the focus prior to the final has been on the two number 7s --Antoine Griezmann ( France) and Cristiano Ronaldo (Portugal) -- the game will be much more than these La Liga stars.
France, as hosts, comprise of some world-class stars, and Portugal will be keen to hand the home team a defeat, and clinch their maiden European title. But, it is not going to be easy, with France having played some wonderful and attacking football so far.
Can Portugal clinch the title or will France win their third Euro title? In the next four hours or so, we will know about it.