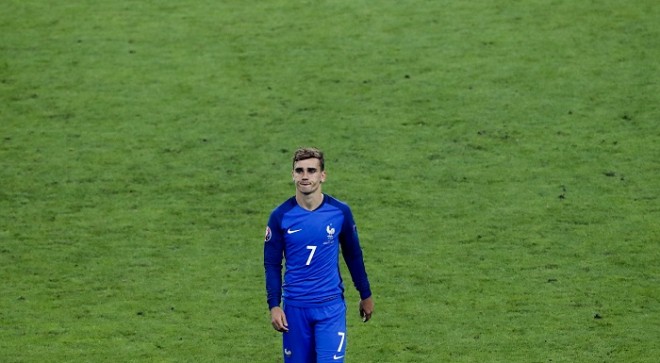 After France defeated world champions Germany in the semifinal of Euro 2016, they would have felt, going into the final, at the ground they almost never lose, the title was theirs for the taking. However, that all-important match proved to be one step too far for the hosts, who crumbled a little under the pressure, with Portugal bringing their experience and tactical nous into play to lift the title.
Eder scored the winner for Portugal in the 109th minute of the game, after the Euro 2016 final had gone into extra time locked at 0-0. France had their chances in the 90 minutes to win the title, but they just seemed to freeze when it mattered most, while Portugal goalkeeper Rui Patricio made some good saves as well. And the longer the match went, the stronger Portugal, with an extra 24 hours worth of rest, looked, with that proving to be the difference in the end.
"We threw away a great chance to be European champions," France manager Didier Deschamps said. "Of course, the overriding emotion is huge disappointment. It's cruel to lose the final like that.
"I have to congratulate Portugal. Clearly, we had our opportunities and we weren't clinical enough. We weren't cool-headed enough, but I can't hold anything against my players. They gave everything. I don't think we played with the brakes on by any means."
While they were far from conservative, there was that spark missing from France. After making a bright start in the game, where they attacked with pace, France just seemed to lose their concentration following Cristiano Ronaldo's injury, with the momentum they have at the beginning of the match never quite returning.
Portugal, knowing France were not at their best in this final, remained patient and waited for that one moment of brilliance, which came, even without Ronaldo on the pitch, from substitute Eder.
"It's cruel and magnificent at the same time," Golden Boot winner Antoine Griezmann, who missed France best chance when he lifted a header over from six yards out, said. "We've lived through some extraordinary moments, and the saddest moments as well.
"We have to learn. But, (in the final) we gave it our all and we have no regrets. I'm proud of the squad, proud of everybody. Now we have to come back stronger."