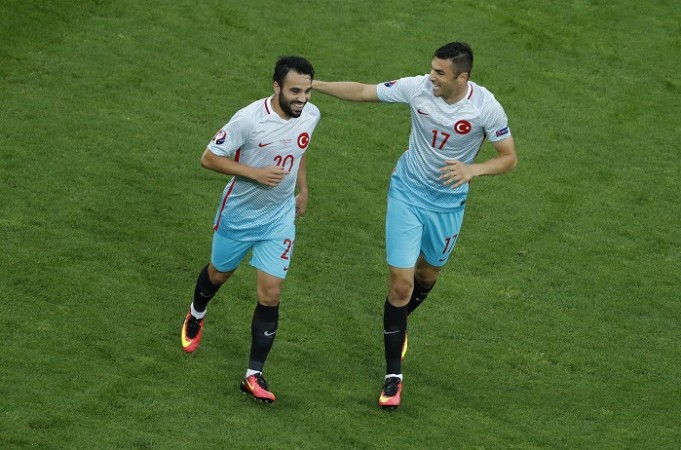 Turkey came into their last Euro 2016 group stage game against Czech Republic with one thought only – win at all cost, which was evident from their determined approach. They scored two clear goals to throw Petr Cech and co. out of the competition.
More importantly, they have clinched third spot in the group, and have thus increased their chances of making it to the round of 16, provided other results also go according to plan for the Turks. However, this result has helped Nothern Ireland, who finished behind Germany and Poland in Group C, confirm their the round of 16 qualification as one of the best third-placed teams. Northern Ireland have a better goal difference than Turkey and Albania.
Turkey took an early lead in the 10th minute as Burak Yilmaz found the back of the net with a close range finish after some final display in the right from Emre Mor. Turkey looked good during the initial exchanges, and were asking questions to Czech's defence.
Czech Republic were unfortunate not to equalise as Tomas Sivok hit the post with a strong header in the 16th minute. There was so much happening on both ends, which made it entertaining. However, Yilmaz and Mor, with the latter using his pace, looked good in the first half.
The Czechs were also playing some good football, in fact, looked a good unit in the first 45 minutes but did not have anything to show for their efforts. However, they were always threatening to score, but lacked in the final third. Czech Republic enjoyed 59 percent possession in the first 45 minutes.
Turkey doubled their lead via Ozan Tufan's strike in the 65th minute, which more or less put the game to bed. However, the Czechs were not giving up at all, and even upped their tempo after conceding that second goal.
With such offensive game, the Czechs were leaving spaces at the back, risking another goal as well. But the match ended 2-0. Overall, Turkey looked a better team, enjoying possession in the second half, putting up a decent all-round performance, to earn three points.
Czech Republic, who could not really get going in Euro 2016, will head back home without a single win from the competition.