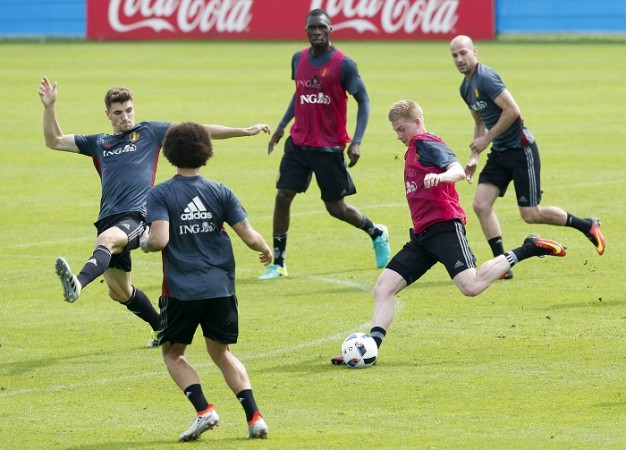 Belgium, a team studded with stars, are seen as one of the strongest teams in Euro 2016. With players like Eden Hazard, Romelu Lukakau and Kevin De Bruyne, Belgium are going to trouble teams if their stars shine in France. As of now, they need to focus on their opening Euro 2016 match against a strong defensive unit of Italy on Monday.
How to watch Belgium vs Italy live on TV and online? Find out by clicking here
Italy may not be one of those formidable teams, which one has been accustomed to in the past. But when it comes to major events, there is something special about them as they step up a gear, which is a must, when one faces a strong opening match against a team like Belgium.
Belgium might have been worried a few days ago after Hazard limped out of training on Friday, suggesting that the Chelsea player will not be available for the clash against Italy, which was a major drawback. The same was said for Thomas Vermaelen, who had fitness concerns, but Belgium manager, Marc Wilmots has brought smiles to their fans, as both the players will be available for selection in the starting XI.
With Vermalen fit, Jan Vertonghen is expected to play as the central defender alongside him. Though it remains to be seen if they will miss the services of their talismanic leader, Vincent Kompany, he was not picked in the Euro 2016 squad after suffering a muscle injury against Real Madrid in the Champions League.
However, Belgium's forte is their offensive unit. Hazard, alongside De Bruyne, is going to be their key player against Italy, and he will need the support of other stars like Lukaku, who will lead the line for Belgium.
But it is not going to be a walk in the park for Belgium, as Italy always seems to have their defensive line in place to counter any number of attacks. Italy's no-nonsense defender, Giorgio Chiellini, after a good season with Juventus, will be willing to throw his body on the line, and make those crucial challenges. His duel against Lukaku will be something to watch out for.
Italy does not have any injury concerns, hence their manager, Antonio Conte will have a full squad to choose from. Antonio Candreva and Stephan El Shaarawy are set to feature in the wings, but it remains to be seen if Conte will field Juventus' striker Simone Zaza or Southampton's Graziano Pellè up front, and one should not be surprised if both the players are used in the starting XI.
Expected starting XI: Belgium: Courtois; Alderweireld, Vermaelen, Vertonghen, Denayer, Witsel, Nainggolan, Mertens, De Bruyne, Hazard, Lukaku.
Italy: Buffon; Barzagli, Bonucci, Chiellini, Darmian, De Rossi, Giaccherini, Candreva, Shaarawy, Pelle, Zaza.