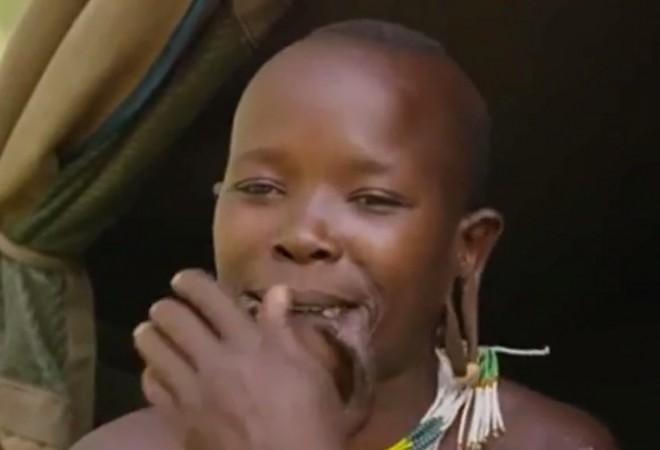 An Australian film crew found a lady in the remote valleys of southern Ethiopia with the world's largest lip disc.
Ataye Eligidagne, 20, has a lip disc measuring 59.5 cm in circumference and 19.5 cm in diameter, according to Mail Online.
The previous lip disc record in the Guinness Book of World Records was 15 cm in diameter.
The crew visited the place to film a documentary series for Canon Australia. During their filming, their attention was grabbed by this woman, which stunned the crew members.
"I'm a big reader of Guinness World Records and I figured it was out of the ordinary, but you know you've found something special when the locals are amazed," cinematographer Abrahem Joffe told Daily Mail.
Keeping lip discs exist among the Surma woman of the Omo Rover valley in Ethiopia since 1896 and they undergo the procedure at the age of 15-18.
Eligidagne, who underwent this procedure has been stretching her lips for three years after the initial piercing, and even removed her bottom two front teeth.
It is believed that women carry disc as a sign to attract their husbands and it is a matter of pride for them. But recently the Ethiopian government has taken measures to ban such practices and as a result the frequency of these rituals have gone low amongst the younger generations.
When Joffe asked Eligidagne if the procedure was painful, she denied and said there were not any adverse effects.
"When we asked her if her daughter would adhere to the tradition, she said wasn't sure her daughter will see it the same way, and she would respect her daughter's decision on whether or not to do it," said Joffe.