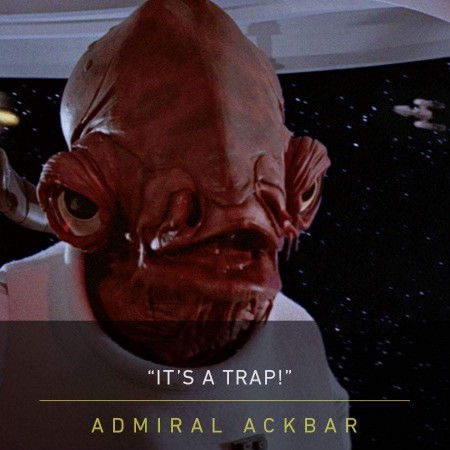 Eris Bauersfeld, who lent his voice to Admiral Ackbar — one of the prominent characters in Star Wars movies — has died at the age of 93. Bauersfeld was known for providing a distinctive voice to the character of Ackbar and for his quote "It's a trap" in "Star Wars: Episode VI – Return of the Jedi."
The Hollywood Reporter stated that Bauersfeld's death was confirmed by his manager, Derek Maki. The voice actor and radio drama producer was residing in Berkeley, California. He passed away Sunday morning.
Besides Ackbar, Bauersfeld also dubbed for Bib Fortuna, the assistant of antagonist Jabba the Hutt in "Return of the Jedi." In last year's "Star Wars: Episode VII – The Force Awakens," he returned to give voice to Ackbar for one more time.
Apart from "Star Wars" movies, Bauersfeld also voiced in Steven Spielberg's "A.I. Artificial Intelligence" (2001) and Guillermo Del Toro's "Crimson Peak" (2015).
On his non-profit website, Bay Area Radio Drama, Bauersfeld wrote, "The voice work I did in movies was accidental. I was working with Randy Thom on radio dramas at his technical quarters at Lucasfilm. One day Ben Burtt, sound designer for Star Wars, came by and asked if I would audition for a voice in the movie."
Bauersfeld also did voice work for the character Ackbar in the 1993 flight simulator video game, "Star Wars: X-Wing."