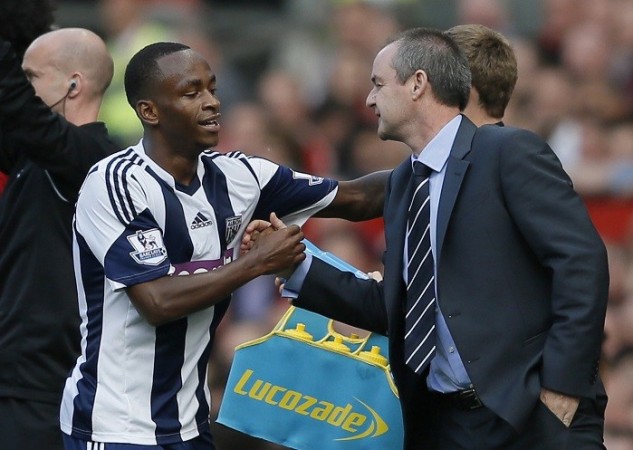 West Brom and Fulham are among the English Premier League clubs reportedly keeping tabs on Dynamo Kiev midfielder Lukman Haruna, with a move during the January transfer window being considered.
Reports in Africa suggest the Nigerian international has been extensively watched by scouts from Premier League clubs, with Albion and Fulham showing the most interest.
"I am definitely flattered by the links with Premier League clubs, I almost joined the Premier League before coming to Kiev," Haruna told Sky Sports.
"Fulham is a very good club in London. My ambition at the moment is to get back into the Nigerian team, I want to be part of the team and give my best to the country.
"I played in the 2010 World Cup and to do the same in the World Cup in Brazil could be fantastic. I am scoring goals in the Ukrainian League and hopefully that influences the coach to call me back."
Haruna was very highly-rated as a youngster with the likes of Real Madrid and Bayern Munich reportedly showing an interest, before the midfielder signed for Monaco in 2009.
Kiev teammate Brown Ideye also believes Haruna deserves a call-up to the Nigerian national team.
"I think with the form of Lukman right now, he deserves a look-in for the Eagles," he told The Punch. "Haruna scored in our last game even after coming on from the bench. I know if he gets the opportunity, he would make a big impact"
"But it's the coach who has the final decision with regards who makes the team."
Meanwhile, West Brom defender Jonas Olsson has expressed his happiness at striker Shane Long remaining at the Hawthorns after a deadline day move to Hull City fell through.
Olsson believes Long has the ability to be one of the best strikers in the Premier League when on form.
"I think he has shown that he is a great player and, when he's at his best, he's a top performer in the Premier League," the Sweden international told the Birmingham Mail.
"I'm happy we managed to keep him. We have competition all around now, it will do the squad good.
"I think Shane has coped with it well. It's just part of football, you have been in some transfer windows, one day you are going, next you are staying, it's part of it. I haven't seen any difference of him this month than before."