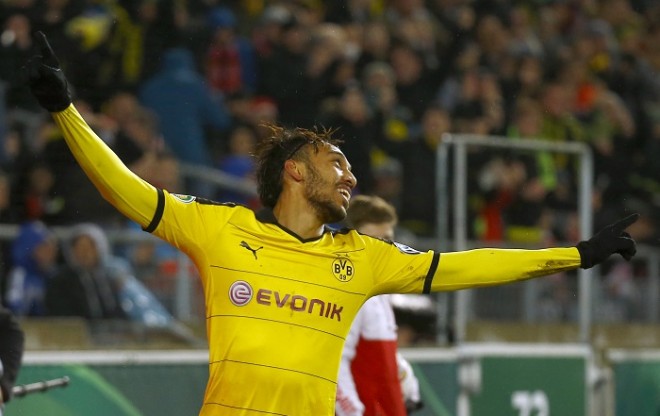 Even with a Champions League place next season looking difficult, Manchester United are already making plans for the summer transfer window, with Borussia Dortmund striker Pierre-Emerick Aubameyang leading the we'll-pay-crazy-money-for-him list.
Aubameyang was heavily linked with a Premier League move in January, with Arsenal thought to be quite interested in the Gabon international's services. However, with Borussia Dortmund asking for somewhere in the region of £60 million ($87m), that January move never materialised.
While Arsenal has been put off by the asking price, there is no such problem for Manchester United, who knows they will have to pay over the odds for big-name players if they fail to qualify for the Champions League this season.
Aubameyang recently committed his future to Dortmund, insisting he is happy at the Westfalenstadion, however, the more goals he scores this season, the more interest he is likely to garner.
Manchester United have struggled to find their attacking rhythm consistently this campaign, with their performance against Sunderland on Saturday pretty much summing up the majority of their season so far. As a result, they are willing to pay Dortmund more than £60m, if necessary, with the club also ready to offer the player wages of around £200,000 a week ($289,000), according to the Daily Mirror.
Louis Van Gaal, as much as he might want to suggest otherwise, has not quite been able to get his Manchester United team playing entertaining football, and if the club fails to finish in the top four of the Premier League this season, the axe could come falling down on the Dutchman.
Manchester United, though, are not going to stop targeting players for next season, even with the manager's job in doubt. Jose Mourinho has been tipped to take over at Old Trafford next season, and while the Portuguese prefers to target players that he has identified, he shouldn't have too many problems with Aubameyang coming in, considering the African Player of the Year's current form.
Whoever it is at the helm of Manchester United next season, one thing is certain – the football needs to improve, the results need to be better and the fans need to be made happier. If that job falls upon Van Gaal, Mourinho or someone else remains to be seen, but bringing in players of Aubameyang's quality will help.