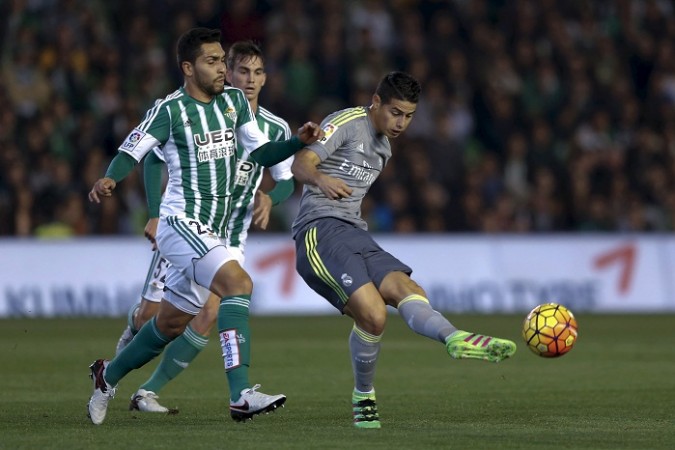 Manchester United are close to completing a move for Real Madrid star James Rodriguez in the January transfer window.
Rodriguez continues to be tipped with a move away from the Bernabeu, as the Colombian looks for a team where he can play regular first team football. Rodriguez has started much of this season from the bench, and wants to be an assured starter.
Real Madrid cannot do that if Cristiano Ronaldo, Karim Benzema and Gareth Bale are fit – playing Rodriguez in midfield has unbalanced the team quite a bit – which means his starting XI prospects do not look the greatest.
Some reports from Colombia have also claimed Rodriguez has been a disruptive influence in the dressing room, with Zinedine Zidane not overly impressed with the attitude of the playmaker either. That has only further prompted a move away from Real Madrid.
According to the Daily Express, Rodriguez's agent Jorge Mendes has offered the player around Europe, especially Manchester United, who have showed the greatest interest. The 24-year-old, who played 80 minutes of the 1-1 draw against Real Betis on Sunday, is expected to cost well in excess of £60million, which is not thought to be a problem for Manchester United.
The report claims talks have begun with Mendes over a possible move, and a transfer is even possible in the January window.
After another insipid performance in front of goal, Manchester United desperately need an attacker capable of reigniting the club, and Rodriguez certainly has the talent to do that. Louis Van Gaal has admitted he is disappointed with the lack of spark up front, and while Rodriguez is not a pure goalscorer, his arrival might just be the tonic needed for the likes of Anthony Martial and Wayne Rooney to find the back of the net with greater regularity.
Manchester United need inspiration from somewhere in a hurry, because if they do not pick up their form, they could find themselves missing out on the Champions League for the second time in three seasons.