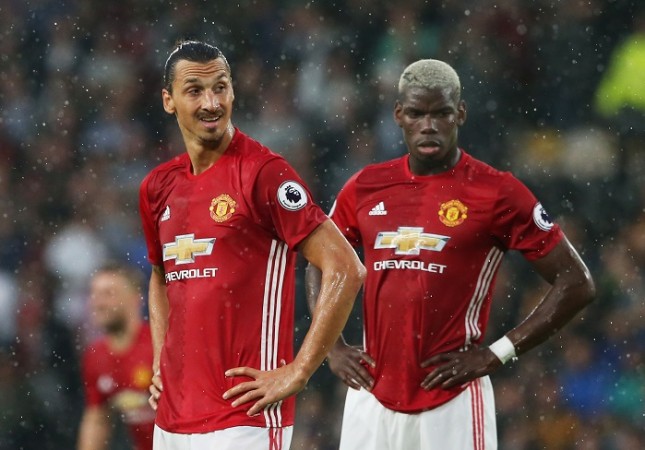 In the "which is the big match of the weekend contest" for week four of the new Premier League season, there really is only one winner as the first installment of the Jose Mourinho vs Pep Guardiola rivalry on English shores takes place with the Manchester derby on Saturday.
Manchester United vs Manchester City at any time is a mark-your-dates match, but you add Mourinho, Guardiola and Zlatan Ibrahimovic, who is not the biggest fan of the former Barcelona manager, into the mix, the big-match-level rises considerably.
The good or bad thing about this weekend's schedule for the Premier League is that the Manchester derby is up first. So, either the two teams will whet everyone's appetite for what will hopefully be a weekend filled with goals, excitement and plenty of talking points, or Manchester United vs Manchester City could set the tone for an underwhelming round of fixtures.
Knowing the Premier League's penchant for providing entertainment, though, the former scenario looks more likely, especially considering more intriguing matchups await, after the marquee Manchester derby.
The pick of the 3 p.m. local time kickoffs is Arsenal vs Southampton. Arsene Wenger splashed the cash in the final days of the transfer window, bringing in Lucas Perez from Deportivo La Coruna and Shkodran Mustafi from Valencia. Both players could feature in the match against the Saints, and Wenger will hope they make an immediate impact.
Stoke City vs Tottenham should also be an interesting game, as Mauricio Pochettino looks to keep his team in the title picture, while Jack Wilshere should make his debut for Bournemouth, after his much talked about switch from Arsenal, when they play West Brom.
The late kickoff is quite an enticing one, with Liverpool hosting the champions Leicester City at Anfield. Both teams have won one, drawn one and lost one in each of their first three matches, so a win over a top four rival will be considered quite important.
Liverpool began the season with an impressive 4-3 win over Arsenal, and while they have stumbled a little since then, maybe another high-profile match is what Jurgen Klopp's men need to get back into their groove. Leicester only picked up their first win of the season in the last round of fixtures, but what that also does is give them confidence going into the Anfield match, and as they showed last season, confidence and belief really can do wonders.
Sunday's only game will see Chelsea play Swansea City in Wales. Chelsea have been quite impressive so far, with Antonio Conte's men winning all three matches, and current form suggests this should be a comfortable win for the Blues.
The Monday night match is an interesting one as Sunderland manager David Moyes faces his former team Everton at the Stadium of Light.
EPL schedule:
Saturday, September 10: Manchester United vs Manchester City (5 p.m. IST, 12.30 p.m. BST, 7.30 a.m. ET) at Old Trafford.
Arsenal vs Southampton (7.30 p.m. IST, 3 p.m. BST, 10 a.m. ET) at Emirates.
Burnley vs Hull City (7.30 p.m. IST, 3 p.m. BST, 10 a.m. ET) at Turk Moor.
Bournemouth vs West Bromwich Albion (7.30 p.m. IST, 3 p.m. BST, 10 a.m. ET) at Vitality Stadium.
West Ham vs Watford (7.30 p.m. IST, 3 p.m. BST, 10 a.m. ET) at London Stadium.
Middlesbrough vs Crystal Palace (7.30 p.m. IST, 3 p.m. BST, 10 a.m. ET) at Riverside Stadium.
Stoke City vs Tottenham (7.30 p.m. IST, 3 p.m. BST, 10 a.m. ET) at Bet365 Stadium.
Liverpool vs Leicester City (10 p.m. IST, 5.30 p.m. BST, 12.30 p.m. ET) at Anfield.
Sunday, September 11: Swansea City vs Chelsea (8.30 p.m. IST, 4 p.m. BST, 11 a.m. ET) at Liberty Stadium.
Monday September 12: Sunderland vs Everton (8 p.m. BST, 3 p.m. ET, 12.30 a.m. IST next day) at Stadium of Light.
TV listings: India: Star Sports Select HD1, Star Sports Select HD2 and Star Sports 2. UK: BT Sport 1 and Sky Sports 1. USA: NBCSN. Australia: Optus Sport. Canada: TSN and Sportsnet. Malaysia: Astro Super Sport. Singapore: Eleven. Indonesia, Thailand, New Zealand, Middle East: Bein Sports.