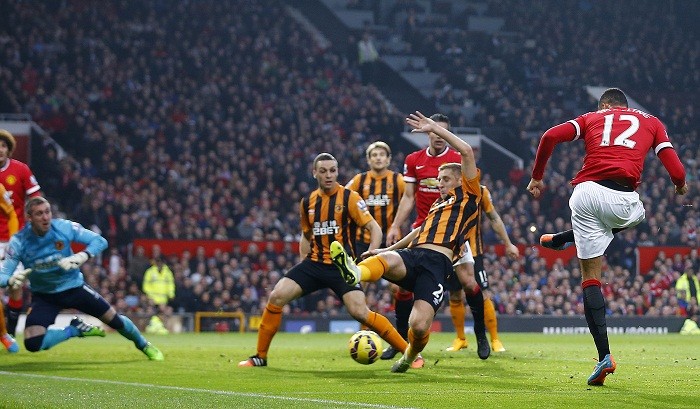 The title has been decided, and so has the top four; so the primary focus of the final day of the English Premier League season will be the relegation battle.
Hull City and Newcastle United will fight to avoid the drop, with the former facing Manchester United at the KC Stadium, while the latter host West Ham at St. James' Park. Eight other games will be played at the same time as well, with Europa League places up for grabs, as Liverpool, Tottenham and Southampton look to finish in a position that will ensure some kind of European football next season.
Below is the schedule of the ten fixtures of the final day of the Premier League, with venues, timings and dates.
All matches to be played on Sunday, 24 May at 3 pm BST (7.30 pm IST, 10 am ET):
Chelsea vs Sunderland at Stamford Bridge: The Blues have already clinched the title, and the game against West Brom on Monday showed some of the players and, perhaps, even the manager Jose Mourinho's, minds are on the vacation that they will go on following Sunday's match. Sunderland also have nothing to play for having assured their Premier League survival with the 0-0 draw against Arsenal on Wednesday.
Manchester City vs Southampton at the Etihad: Arsenal cannot catch City for second place anymore, so that means another dead rubber from the deposed champions' point of view. Southampton are currently seventh on 60 points, with two points separating them and fifth-placed Liverpool. The right kind of results, where Liverpool and Tottenham stumble, could take the Saints all the way up to fifth and a definite place in the Europa League next season.
Arsenal vs West Brom at the Emirates: While Arsenal's third place is still not assured mathematically, with Manchester United only three points behind, Arsene Wenger's men have realistically avoided a Champions League playoff as the difference in the goal difference between the two sides is seven in Arsenal's favour. Having lost one and drawn their last three matches, however, Arsenal will want to pick up a positive result in order to build some momentum going into the FA Cup final. West Brom have little to play for, other than the prospect of finishing as high as possible in the final standings.
Hull City vs Manchester United at the KC Stadium: Hull must win to stand any chance of staying in the Premier League. They must also hope Newcastle fail to take the three points against West Ham. Manchester United have assured their place in the top four, but Louis Van Gaal's men will want to end their season on a high.
"When the transfer window closed at the end of August last year I looked at our squad and was quite happy," Hull City manager Steve Bruce said. "I didn't think we would be in this position on the final day.
"There are reasons why it has happened -- we have lost some of our biggest signings for significant parts of the season -- but I don't want to be making excuses. We still have a chance. We are up against it, that's for sure, but with a good performance and a bit of luck we could still save ourselves. We know we are capable."
Newcastle United vs West Ham at St. James' Park: While the Magpies might still survive even if they only draw or lose against the Hammers, they must pick up the three points to be absolutely certain of their Premier League status. It is hard to believe that Newcastle find themselves in this situation, but the table never lies and with relegation in their hands, it is time for the players to step up and put in one solid performance over West Ham, who like most other teams, have nothing to play for, other than a possible top-ten finish.
"I considered showing them something to reinforce what it's like to be in the Premier League compared to the next division down," Newcastle manager John Carver said about the possible motivational tactics. "I thought of compiling a film of what it's like to go to Old Trafford, the Emirates and Stamford Bridge compared to what it's like to go to the lesser clubs with a smaller changing room and all of that.
"But I decided against it because I think if you can't motivate yourself for a game as big as this, when you've got so much to play for then no matter what I show you it's not going to make any difference."
Stoke City vs Liverpool at The Britannia: Raheem Sterling and Steven Gerrard will be the men in the spotlight for this match, for completely different reasons. While Sterling has made the headlines over his future with Liverpool, Gerrard is set to play his final match as a Red before moving to Los Angeles to play in the MLS. A draw might be enough for Liverpool to finish fifth, depending on other results, but a win will definitely ensure they end up at the spot just below the coveted top-four. Stoke have been terrific this season, but irrespective of the result at the Britannia, Mark Hughes' men will finish in ninth place.
Everton vs Tottenham at Goodison Park: The key question for Spurs is if they even want to play in the Europa League next season. If they do, a win should be enough; if they don't, well....
Everton will want to finish in the top-ten with a victory, but they could be usurped by West Ham, depending on the margin of the victory.
Crystal Palace vs Swansea City at Selhurst Park: Swansea, who have been outstanding this season, will finish eighth, while Palace can push for a top-ten place.
Leicester City vs Queens Park Rangers at the King Power Stadium: Leicester have guaranteed their survival, while QPR are already relegated.
Aston Villa vs Burnley at Villa Park: Like the above game, Villa will play another season in the Premier League, while Burnley will try to avoid the wooden spoon, having already been relegated.
Where to Watch Live
Hull City vs Manchester United will be shown live in India on Star Sports 1, while Chelsea vs Sunderland will be live on Star Sports 4. Arsenal vs West Brom is on Star Sports HD1, with Stoke City vs Liverpool on Star Sports HD4. All ten matches can be watched via live streaming on Starsports.com.