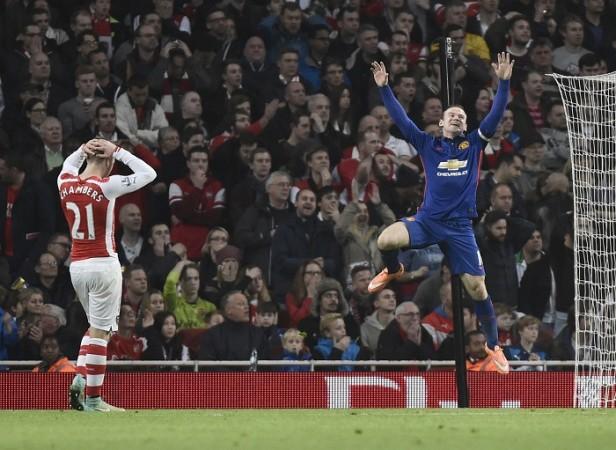 Arsenal played one of the best games they have played against the big teams in the recent past, and yet they could not even come close to picking up a win.
Another self-destruct-button-pressed and that bad-luck-just-will-not-go-away performance saw Arsenal go down to Manchester United, a Manchester United side they battered for much of the game, 2-1 in the English Premier League at the Emirates.
An own goal from Kieran Gibbs and a Wayne Rooney strike from a lightning counter-attack nailed Arsenal firmly to the floor as the North London side crashed to their second straight Premier League defeat after that meltdown at Swansea, with the only bright spot being Olivier Giroud's return to action, as the Frenchman marked his comeback with a late consolation.
For Manchester United and Louis Van Gaal, while being far from their best, this result could be the start of something special, the kind of special that Van Gaal has produced at his other clubs.
After somehow (read David De Gea) keeping Arsenal from scoring, and picking up those two goals at vital times to come away with a precious victory, Manchester United are now two points above Arsenal and in the top four.
Van Gaal reverted back to his back-three/back-five, with Paddy McNair, Chris Smalling and Tyler Blackett playing as the three centre-backs, with the Manchester United manager clearly concerned by Arsenal's pacy attacking line.
However, despite having an extra body at the back, it did not prevent Arsenal from creating chance after chance and if David De Gea had not been at his best again, the scoreline would have been quite a bit in the home team's favour by halftime.
Arsenal took a couple of minutes to get settled into the game, but once they got control of possession and the pace, it was attack after attack, with Alex Oxlade-Chamberlain proving to be a nuisance for the Manchester united backline (read Tyler Blackett) down the right.
There were plenty of potshots from distance, which De Gea had to do well to get behind, with Jack Wilshere, Danny Welbeck, who did not have a game to remember against his old club, and Alexis Sanchez all testing the Manchester United goalkeeper.
However, this Arsenal side this season, despite dominating possession time and again, have not quite created as many clearcut chances as they would have liked, but the one that Jack Wilshere received in the first half could not have been better.
With time on the ball and only De Gea to beat from six yards out, Wilshere, whose finishing is far from his forte, decided to clip the ball straight at the body of a thank-you-very-much-for-that-he-said goalkeeper, thus failing to give Arsenal what would have been a thoroughly deserved lead.
Despite having wingbacks who could go up and down for Manchester United, the away team just could not get control of the midfield, with Michael Carrick doing a very good impersonation of the Invisible Man, while Van Gaal, already crippled by injury, was not helped one bit after Luke Shaw was forced off the field with an ankle injury.
Marouane Fellaini was Manchester United's best outfield player in the first half, winning headers and breaking up play quite well, while also sending his team on a few counter-attacks.
The front three of Angel Di Maria, Wayne Rooney and Robin Van Persie, obviously booed every time he even got near the ball, were pretty isolated, but they did show they could find that back of the net in the blink of an eye via a couple of quick counters.
Di Maria whistled one past Wojciech Szczesny's right hand, while Rooney was only stopped from nestling that ball into the net by a brilliant block by Calum Chambers, who looked more like his old self this time around after that nightmare match against Swansea a fortnight ago.
For all of Arsenal's pressing, attacking and inventiveness, though, the goal would not come, with Manchester United heading into the tunnel for halftime the much happier side.
Arsenal needed to come out in the second half with the same kind of intensity that they showed in the first 45, and they did that creating a couple of early openings.
However, Arsenal's own injury curse would strike again, first via Jack Wilshere, who was forced off after rolling his ankle.
Then that bad luck decided to set camp on the Arsenal side, with an own goal giving Manchester United the lead a few minutes before the hour mark.
It was a triumvirate of bad luck for Arsenal really, and good fortune for United, with the goal coming via a cross down the left. Fellaini was trying to ghost in behind left-back Gibbs at the far post, and was a shade offside when the ball was played in, and then, to make matter worse, the Manchester United midfielder, knowing he was not going to get to the ball, shoved Gibbs towards Szczesny, who in the process could not make the right connection with his punch.
That far-from-enough punch fell to Antonio Valencia down the right, and the right wingback fired in a cross/shot across goal, which Gibbs, on the floor from that push, directed towards his own goal. Just to add that extra bit of pain to the home side, Szczesny had to leave with an injury after his collision with Gibbs, with Emiliano Martinez coming in.
Arsenal huffed and puffed in the remaining 30-odd minutes, hunting for that equalising goal, with Per Mertesacker, a couple of times almost doing a Yaya Toure and driving from deep, but that penchant for giving away goals on the counter-attack would just not cease.
With six minutes to go, Arsenal threw everybody but Monreal forward rather naively again, and bang Manchester United countered in lethal style. Fellaini gave the ball to Di Maria down the right, and the Argentine drove forward before laying the ball for Rooney, who had the simple task of slotting the ball past Martinez to finish off Arsenal.
Further salt could have been added to the wounds with Di Maria missing a sitter, before Olivier Giroud, on his return from injury after nearly three months, grabbing a late consolation via the sweetest of half volleys.
Other results: Chelsea 2-0 West Brom; Everton 2-1 West Ham; Leicester 0-0 Sunderland; Manchester City 2-1 Swansea; Newcastle 1-0 QPR; Stoke 1-2 Burnley.