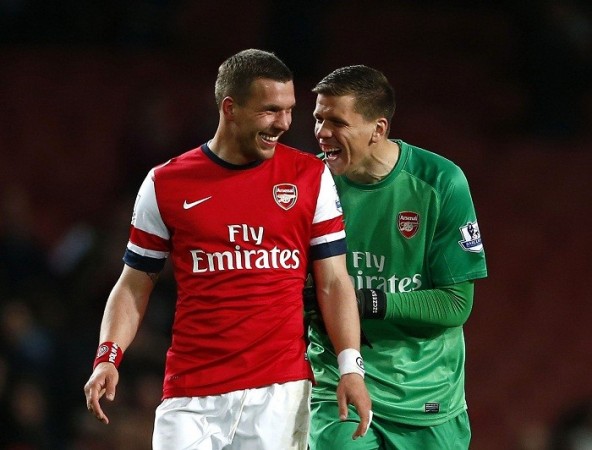 Arsenal played with fire yet again, before finding the wherewithal to climb back into fourth place in the English Premier League with a 3-1 victory over West Ham.
The Gunners were in serious trouble heading into the final moments of the first half, with Matt Jarvis putting West Ham ahead on 40 minutes, heading home after the ball looped kindly to him off a save from Wojciech Szczesny following an initial effort from Antonio Nocerino.
However, a nice pass from Santi Cazorla, and a couple of touches and smash into the bottom corner by Lukas Podolski made it 1-1 at halftime.
Arsenal, knowing nothing short of three points will do if they are to keep their hopes of qualifying for next season's Champions League alive and kicking, took the lead for the first time on 55 minutes.
A long ball from Thomas Vermaelen fell perfectly for Olivier Giroud, thanks to some poor defending from West Ham, with the under-fire Arsenal striker controlling the ball exquisitely before finding the back of the net from close range.
The Arsenal striker showed his class by dedicating the goal to the Hillsborough victims, with Arsenal's third goal, in the 78th minute, also worthy of a standing ovation.
Giroud played the ball into the edge of the box from the left, with substitute Aaron Ramsey nodding a nice little header for Podolski to unleash a left-footed pile driver to make it 3-1 and ensure all three points for Arsenal.
"We were tested mentally, but I think we were strong," a relieved Arsene Wenger said. "We were united, disciplined, determined, and despite being 1-0 down -- I couldn't see where we could be 1-0 down -- it was a big blow but we responded well.
"Overall you could feel that the team was absolutely focused from the first to the last minute. We built slowly a win that I think was normal."
The Gunners jumped back to fourth with 67 points from 34 games, but Everton, on 66 points from 33 matches, can reclaim the final Champions League spot with a victory, or even a draw, against Crystal Palace on Wednesday.
"It [the win] improves the confidence of the team," Wenger added on Tuesday night. "Saturday [the FA Cup semifinal victory over Wigan] and tonight improves the confidence of the team, but we know we have one advantage -- the picture is very clear in front of us. We have compulsory wins in front of us. We want to do it of course."
West Ham manager Sam Allardyce, whose side remain 11th on 37 points, was unhappy with the mistakes that cost his side a possible victory.
"Many times you play at Arsenal and you come away and can't complain about the result because they have completely outplayed you, but this time I am complaining about errors we have made at vital times that they have punished," he told the club's official website.
"I suppose the difference, at the end of the day, was that we didn't punish the errors that Arsenal made -- and they made a lot of errors, for them. They punished us more than we punished them and that's why they won."