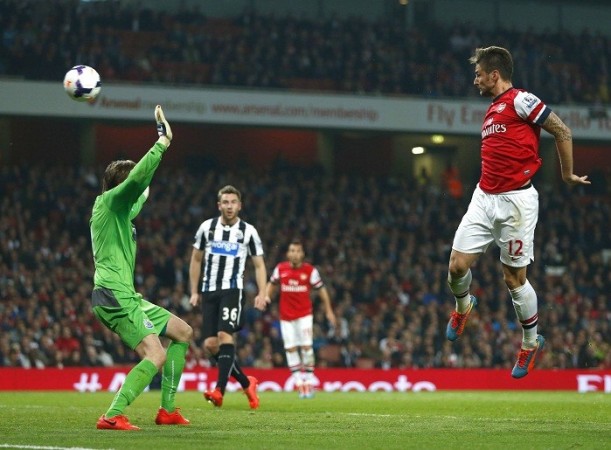 Arsenal moved ever closer to another campaign in the Champions League, after a comfortable worry-free victory over Newcastle in the English Premier League.
The Gunners have looked like a completely different team after the return of Aaron Ramsey and Mesut Ozil from injury, and the duo were instrumental in the Gunners' 3-0 win at the Emirates on Monday night, with the latter scoring one and setting up another.
Laurent Koscielny opened the scoring for Arsenal in the 26th minute, diverting a brilliant freekick from Santi Cazorla, before Mesut Ozil made it 2-0 three minutes before halftime, slotting home after the ball bounced to him following a double save from Tim Krul to deny Olivier Giroud.
The French striker, though, would have his goal, thumping home a header off a pinpoint cross from Mesut Ozil, who found himself in space on the Arsenal left following a delightful reverse pass from Ramsey.
"It is a step forward but we need to make another one because we have another home game [on Sunday]. It is another opportunity to win again," Arsenal manager Arsene Wenger said. "What is important is to focus on our performance. Game-by-game, they look strong and convincing now."
Arsenal moved four points clear of Everton with the victory, and all they have to do is match the Toffees' result at the weekend to confirm Champions League qualification. The Gunners host West Brom at the Emirates on Sunday, while Everton entertain title hopefuls Manchester City a day earlier.
"One more win will be top four for sure," Wenger said. "It will show that the club has been consistent over the years, but we want more. Overall this season I think we have been 17 times top of the league, but at the crucial period of the season we have lost many players.
"We have got to the FA Cup final having played against Liverpool, Everton, Tottenham and in the Champions League we went out against Bayern with 10 men. We have shown we have potential, but we want more next season and hopefully we can do it. But first let's finish this season."
One does wonder what the situation might have been had Arsenal had all their big players fit for the bulk of the season; because any club would have struggled to cope without the likes of Ramsey, Ozil, Theo Walcott and Jack Wilshere for long periods like Wenger was forced to.
At the other end, Newcastle, in ninth on 46 points, will now just want this season to end as soon as possible after suffering their sixth defeat on the bounce, and seventh in eight, with the fans making their disappointment clear.
"I've lost six on the trot as manager of Newcastle, so you have to accept that," Alan Pardew told Sky Sports when asked about the fan discontent. "I know they are disappointed and angry at the moment that we haven't got a result.
"I think the bigger picture is we're in a good position in the summer and we need to focus on finishing in the top 10. We need to win on Saturday [against Cardiff].
"That's put extra pressure on us, this little run, but the players have shown tonight that they're working hard enough and if we can get a break, and perhaps the opposition are not as good as they were tonight, we might have a chance. I think on Saturday we'll be really up for it and get a win."