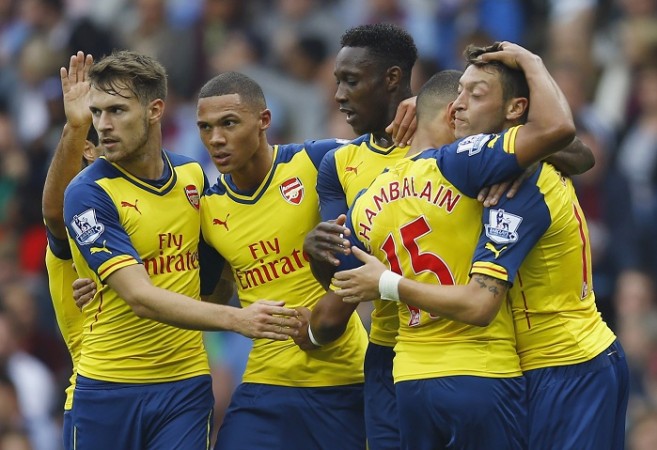 Mesut Ozil can play, you know. You wouldn't think that, of course, if you read all of the stories that came out in the last week or so, criticising every little thing about this remarkably wonderful-to-watch Arsenal No.11. The great man decided to silence those critics in one fell swoop with a couple of moments of magic against Aston Villa in the English Premier League, moments which gave Arsenal the easiest of victories, and a much-needed one after three straight draws and that rather disheartening defeat to Borussia Dortmund in the Champions League.
Given that central role that he has been craving for by Arsene Wenger, Ozil showed exactly why the parsimonious Arsenal manager decided to fork out £42.5 million for him, gliding in a wonderful finish to open the scoring, before doing what he does best, pick out the inch-perfect ball for a striker – in this case Danny Welbeck for his first Arsenal goal – to finish with aplomb.
The end result of that Ozil show was a comfortable 3-0 win for the Gunners, with all three goals coming in the space of a little over three minutes, as the final one came via an own goal from Aly Cissokho. The result also brought Aston Villa right back down to earth, after Paul Lambert's men were sitting pretty in second place in the Premier League table after four matches.
Aston Villa actually started the game pretty brightly, causing the Arsenal defence a few problems, with Fabian Delph and Ciaran Clark coming close in the first 20-odd minutes.
Delph was the first to test Wojciech Szczesny, with the Arsenal goalkeeper forced to make a diving save to his left off a shot from just outside the box from the Aston Villa midfielder.
Villa looked threatening on a number of occasions in the first 25 minutes of the game, with Arsenal unable to hit their attacking stride. And Aston Villa's early forward thrust should have been rewarded on 23 minutes, when Clark, given a free header after Kieran Gibbs just decided not to follow his man, thumped the ball straight to Szczesny, who made a brilliant save by making himself as big as possible, following a freekick from Tom Cleverley.
You always knew Villa were going to pay for not taking their chances, especially when they were in the ascendancy, but even Arsene Wenger or the most optimistic of Gooners would not have envisaged the North London side turning the game around in such an emphatic manner in such little time.
The 32nd minute to the 36th minute of the first half is something that Lambert and his assistant Roy Keane will want to forget about quickly, as Arsenal, ruthless and ridiculously clinical tore Villa apart in the blink of an eye.
The first goal came via some nice one-touch, so Arsenal-like quick passing and movement, with Alex Oxlade-Chamberlain, getting a start and making the most of it, playing a wonderful first-time pass to Welbeck, who then found Ozil with a peach of a through ball. The Arsenal playmaker, criticised from everywhere for his performances this season, took his time, saw where the goalkeeper was, and coolly slotted the ball past Brad Guzan's right and into the back of the net.
About 70 seconds later, and Arsenal were 2-0 up with the protagonists from the first goal coming to the fore again, only with the role reversed as Ozil picked out the perfect cross from the left for Welbeck to thump home into the roof of the net from six yards.
A little under two minutes more is all it took for Arsenal to put the game and the contest to bed, as Kieran Gibbs fired in a shot which went across goal to allow Cissokho to fire into his own net with the Villa defender worried about Oxlade-Chamberlain lurking in the far post.
Arsenal looked to smash in a couple more goals before halftime, but once the second 45 was whistled in by referee Mike Jones, all that was on show was possession football from the away side, with Villa, a little surprisingly, not even bothering to give it a go at a comeback.
Other results: Burnley 0-0 Sunderland; Newcastle United 2-2 Hull City; Swansea City 0-1 Southampton; QPR 2-2 Stoke City.