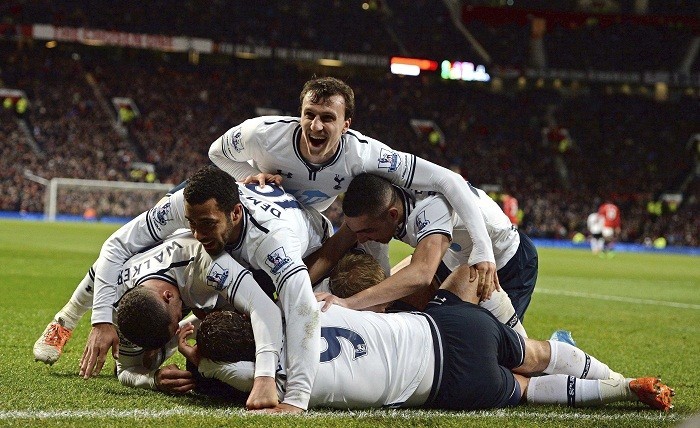 Manchester United just do not seem to be able to create that aura at home in the English Premier League this season - the Theatre of Dreams that was Old Trafford, has turned into the stuff of nightmares more often than not over the past five months.
United suffered their fourth loss of the Premier League season at Old Trafford on New Year's Day, as a we-really-needed-that-lift Tottenham side played some really good counter-attacking football, before clinging on in the end to seal a 2-1 victory.
Spurs, who beat Manchester United 3-2 in the same fixture last season, opened the scoring via remember-me-I-used-to-play-like-this-during-my-Arsenal-days Emmanuel Adebayor, with the away side, again playing with two strikers up front, also missing two how-on-earth-did-that-not-hit-the-back-of-the-net chances either side of the goal.
United were rather stuck in the final third in the first half, unable to create too many clearcut chances despite beginning the game in full tilt. The home side also failed to force the situation at the beginning of the second, and were duly punished by Tottenham with another lightning counter, which ended with Christian Eriksen heading the ball past David De Gea.
With many thinking the game was as good as over the Tottenham's second goal in the 66th minute, United hit their opponents when they were at their most vulnerable, with Danny Welbeck making it 2-1, courtesy a nice finish, just a minute after Eriksen's goal.
The reigning Premier League champions threw the proverbial kitchen sink at Tottenham in the final 20 minutes but the equalising goal just would not come, with substitute Ashley Young a shade unlucky not to be given a penalty for a tackle by what-are-you-doing-in-that-position Hugo Lloris - Young's penchant for diving perhaps going against the United winger there.
"It was scandalous, a scandal," United manager David Moyes said of Howard Webb's decision not to give a penalty. "If you follow through on a player anywhere else on the pitch with your foot high, it would be a sending-off and a red card. You couldn't do that anywhere else.
"The goalkeeper comes out, Ashley Young gets the ball before him and he follows through. It's an incredible decision which didn't go our way, in fact probably the one of the worst I think I saw."
While United were unlucky not to be given a spotkick, what does not change is the fact that United only really started playing anything akin to a title-defending side, once they went two goals down and the desperation grew.
Had they kept the same intensity, or at least a lot more than was shown from about the tenth minute to the 70th, then the result could have been much different.
However, it is another defeat at Old Trafford for Moyes to swallow, a loss that has put United, in seventh, virtually out of the title race, with Arsenal holding an 11-point lead after 20 games.
"We'll keep trying to win the next game now," Moyes added. "That's all you can do. We're not necessarily looking at the league table -- we'd like to be higher but we'll go and try and win the next game.
For Tottenham and Tim Sherwood, though, it will act as a tremendous confidence booster, even if they lost Emmanuel Adebayor to injury during the match.
"We're delighted with the win," Sherwood said. "It's always tough coming to Old Trafford but I felt if we got our players on the ball in the right areas we'd create chances. We created the best chances in the first half and it's a shame we only managed to take one, but we stuck to it and scored the second.
"I thought 'it might be easier now' at 2-0 but lo and behold, they scored from the kickoff. It's never easy, is it? People are saying we were more comfortable than I imagined it was. It doesn't feel comfortable on the touchline when you are kicking and heading every ball.
"The players showed real character and it was great to take the three points."