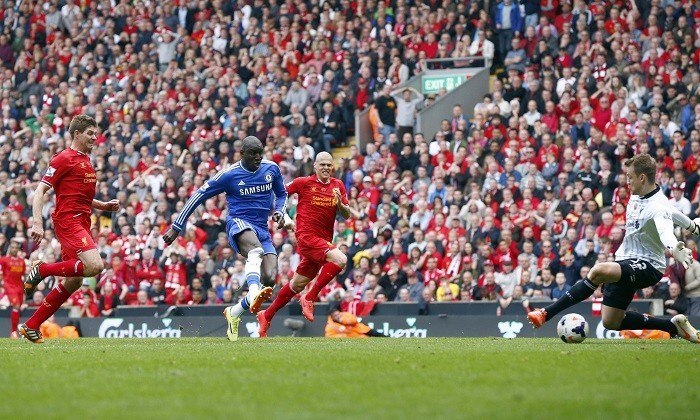 Brendan Rodgers has received plenty of kudos for his tactical nous this season, and deservedly so, the Liverpool manager has been outstanding. But then, Jose Mourinho, Rodgers' mentor, proved he is still the master tactician in the game, setting his team out absolutely perfectly for the proverbial smash and grab, and coming out of it smelling like roses, lilies and jasmine.
You have to admire Chelsea and Mourinho, grudgingly perhaps, if you do not have an affinity for the team in Blue, but admire them you must, because there is no better team in Europe that come out with one plan in mind and administer it to perfection - even a well-drilled military unit will not function as well as this Chelsea side.
With the Champions League semifinal against Atletico Madrid on Wednesday the priority, Mourinho, as he said he would, played a weakened side, not as weakened as one would have imagined, but a team scant of plenty of regulars nonetheless, with the most eyebrow-raising selection being youngster Tomas Kalas partnering Branislav Ivanovic, the man mountain, tank and towering presence, at centre-back.
From second one, Chelsea began their spoiling tactics, wasting time whenever possible, and setting their stall out at the back, challenging Liverpool to come at them and find a way through.
The result was a smash and grab of stunning proportions, with Steven Gerrard, the man who wants the Premier League title more than anyone else on earth, making a calamitous mistake to allow Demba Ba to snipe in and score the winning goal, with Willian netting a second right at the end, courtesy an assist from former Liverpool talisman Fernando Torres.
The 2-0 loss to Liverpool means the title is now within Manchester City's grasp, who have a better goal difference, and can reach 86 points if they win their next four games, with Liverpool also set to reach 86 with victory in their remaining two matches.
Chelsea remain third favourites, two points behind Liverpool, but with a win that just goes to show there is no give or up in their vocabulary.
Liverpool could not find their attacking mojo, so evident in 2014, and in their 11-match winning run, with no goals forthcoming in the first 20 minutes to blow away their opposition.
This Chelsea side, when they are set out to defend, are near impossible to penetrate, and not even Luis Suarez could find a way through, try as he might, with the Uruguayan cutting a frustrated figure time and again.
There were a couple of long-range efforts which Mark Schwarzer had to be alert to prevent, but those stunning pace-filled moves and delightful passes were neutralised, with Ivanovic, back in his preferred central defensive position, leading by example, and then some.
The first goal came at the stroke of halftime, Gerrard, of all people, miscontrolling a simple pass from Mamadou Sakho, and then slipping over, allowing Ba to run clean through and slot the ball through Simon Mignolet's legs.
Liverpool huffed and puffed in the second half, but this Chelsea defence is built like a tank, with little chance of finding a way in, and with the home side throwing everyone, except the goalkeeper, forward in search of the equaliser which would have still kept the title in their hands, the second dagger was delivered.
Torres ran clear through with Willian running along with him, and with only Mignolet to beat, the Spanish striker, once worshipped by the crowd at Anfield, waited until the last moment before slipping a pass through to Willian, who had the simple task of tapping into an empty net to cue massive celebrations from Mourinho, who yet again made a statement to his title challengers, naysayers and the Premier League.