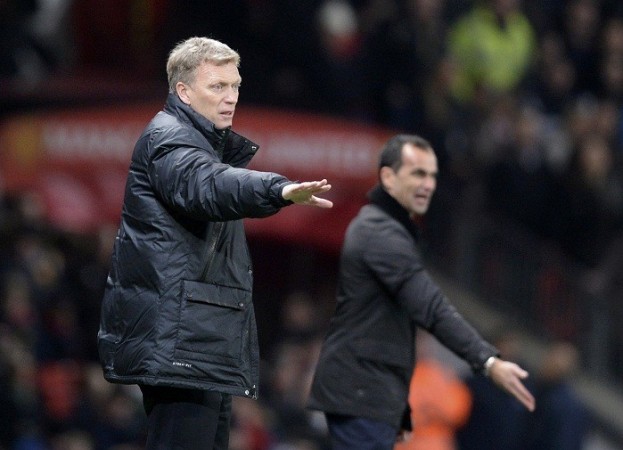 Misery loves company, and at the moment it certainly seems to be drawn towards David Moyes. In another nightmare evening for the new Manchester United manager, the reigning English Premier League champions went down by a solitary goal to the side the Scot had called his own for 11 years - Everton.
Bryan Oviedo was the hero for Everton as the Costa Rican left-back popped up with the winner in the 86th minute in a memorable game which refused to relent on the attacking front.
Unable to hide his disappointment and agony at losing to his former team, Moyes dwelt on what might have been.
"I felt we really got on top of the game the whole night, but nevertheless we needed a bit of good fortune to go our way and we didn't get that," Moyes told MUTV. "We had some chances and, if we took them, then the game could have changed dramatically. We didn't take them and in the end we lost the game.
"There were a couple of big moments for us to score, one or two opportunities. Everton were always a threat on the break, they broke very quickly against us but I always felt we could just about nick it. But in the end, we didn't do so."
Moyes also bemoaned his side's defending for the lone goal, which was slotted in by Oviedo after the ball came through to him at the far post courtesy a mishit shot from Romelu Lukaku, who bullied the United defence throughout the 90 minutes.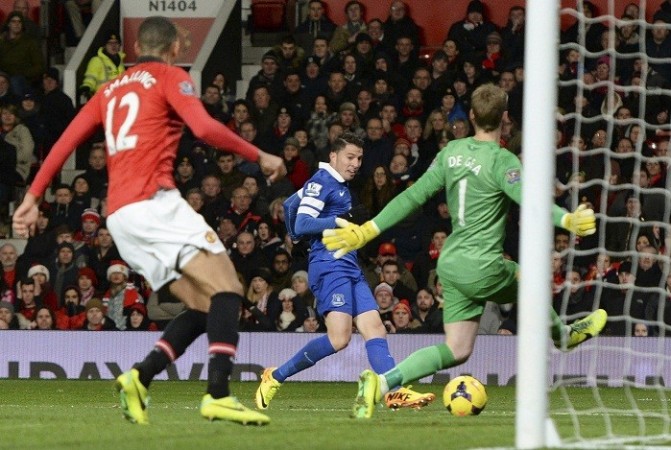 "That is what happens, you tell players to take shots at goal and sometimes they take deflections and go in," Moyes said. "Sometimes, as this did, it gets whipped across the goal and somebody comes in at the back and scores.
"But I am disappointed we gave it away just before that and we never really cleared our lines. They continued to attack us for 20 or 30 seconds after that, which led to the goal. I am really disappointed, but we go again, keep going and move on to the next game."
That is all Moyes can do, wait for the next game - against Newcastle on Saturday - and hope his side can bounce back. Any more dropped points and United's title defence will seriously be over, with the loss on Wednesday keeping them 12 points behind leaders Arsenal.
"That is the good thing here, there are always more games," he added. "We just didn't reach the standards we would have hoped to tonight [Wednesday], but we have a chance to go again."
Meanwhile, Everton manager Roberto Martinez, who guided his side to their first victory at Old Trafford in 21 years, was grinning like a Cheshire cat after the commendable performance.
"There is a real sense of pride, because we came here with a real determination to be ourselves and I think we did that," the former Wigan and Swansea manager told evertontv.
"Collecting three points here is something we haven't done for a long time so it gives you a little bit of extra feeling that I want the fans to share. I want the fans to be extremely joyous of the mentality the players showed on the football pitch."
Martinez also took time to praise the game winner Oviedo, who has had to bide his time for an opportunity at Everton with Leighton Baines making the left-back spot his own. Oviedo, however, has grabbed his chance, created by an injury to Baines, with both hands and feet, impressing in the thumping win over Stoke, where he also scored, before having the final say at Old Trafford.
"It's a great example. In football you need to go through disappointments, bide your time and wait for an opportunity. Bryan has shown that strength," Martinez said. "It's been frustrating for him but he has shown he's ready and taken the opportunity to help the team.
"He has brought two goals in two games but more importantly he's show the defensive concentration in those games too. He's a real example."