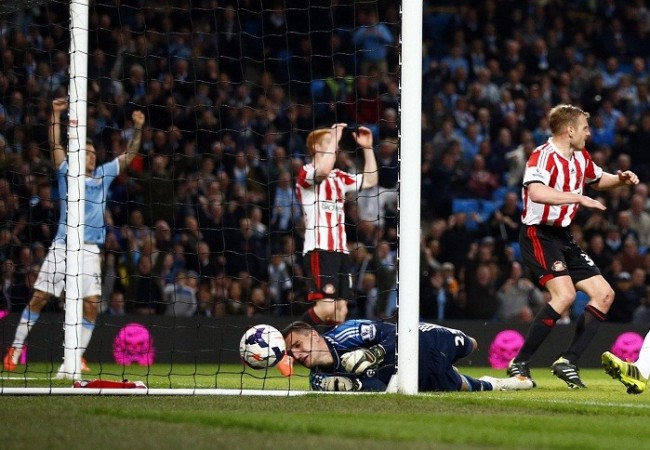 Liverpool were given another huge lift towards picking up their first league title in 24 years after Manchester City could only manage a 2-2 draw, and that too a last-gasp one, against bottom side Sunderland on Wednesday night.
City looked to be on course for another big English Premier League victory at the Etihad after Fernandinho gave the home side the lead inside two minutes, finding the target at the near post after a nice dummy from Alvaro Negredo caught out Sunderland.
Sunderland, though, were far from overawed by the early goal, taking the game to City, and John O'Shea should have put the away team back level a couple of minutes later, with the former Manchester United defender firing a free header off an Adam Johnson freekick wide.
O'Shea had another chance soon after as Sunderland kept the pressure on City, with Johnson, in particular, looking keen to dent his former side one more time.
However, the score remained 1-0 at halftime, and City, far from their best, particularly in the attacking third, looked to be holding on for a nervy win, before Connor Wickham struck in the 73rd minute, getting on the end of an outstanding Emanuele Giaccherini cross. The Italian would set Wickham up again, sending the Sunderland striker through on goal ten minutes later, with Wickham finding a way past Joe Hart's near post to put Sunderland 2-1 up.
Three points would not have been undeserved by any stretch of the imagination for Sunderland, and they would have walked away from Manchester with the most precious of wins had it not been for Samir Nasri, whose strike in the 88th minute, was spilled by former Arsenal teammate Vito Mannone, with the ball, agonisingly for Sunderland, trickling past the line.
Nasri had a glorious chance a minute later to snatch a stunning win for City, but the midfielder struck his shot over the bar as Sunderland breathed again, taking home a point they would have settled for at the beginning of the game.
"The message we wanted to send is that we're still here, still prepared to battle and fight for this football club and I think we did that tonight," said Sunderland manager Gus Poyet, whose side are on 26 points from 33 games, six adrift of safety.
"We conceded a goal after two minutes, but that doesn't matter, we're the same team and you have to go out there and continue to play the way you know you can. We didn't give up or collapse, we kept believing, kept going and kept creating chances and we nearly won the game."
Manchester City had their title chances taken out of their hands following the 3-2 defeat to Liverpool on Sunday, and they now become third favourites for the Premier League crown following the draw, with Liverpool and Chelsea now six points and four points clear of City, who do have a game in hand, respectively.
"Of course, our chances are now less," City manager Manuel Pellegrini said. "Three points was very important for us tonight, but we will continue fighting."I don't think we played with any less confidence following the game against Liverpool. We have five games more in which to play. Liverpool has a better chance than us and Chelsea but we will continue fighting until the end.
"Before the match I was worried about this game. Playing against a team fighting relegation is very difficult and we had only four days to get over the Liverpool game.
"At the end of the season we will analyse. We have five games more to play and we will continue to have chances. My duty is now to talk to the players and to win the last five games. This team was six points behind the leaders two years ago and won the title."
Meanwhile, in the other game of the night, Crystal Palace picked up an impressive 3-2 victory over Everton at Goodison Park, a result which kept Arsenal in fourth with destiny, for the final Champions League place, back in their own hands.