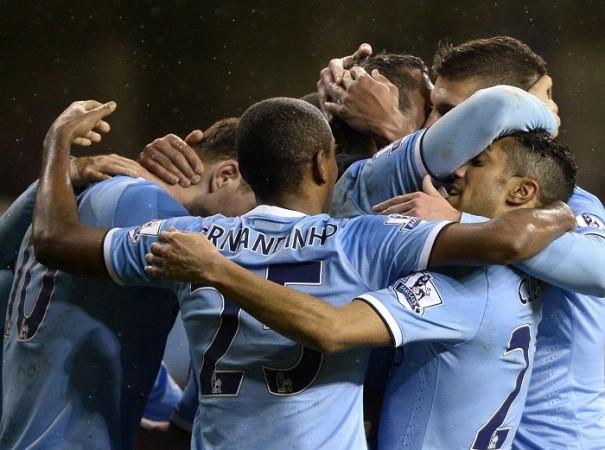 Manchester City are looking like a Sebastian Vettel-ridden Formula One car at the moment, which when cranked up into top gear -- or even a couple of notches below - is near impossible to stop. In another ridiculous attacking master class, albeit with a stroke of luck or two, Manchester City put Tottenham to the sword for the second time in the season, cruising to a 5-1 victory in the English Premier League.
Goals from Sergio Aguero, Yaya Toure, Edin Dzeko, Stevan Jovetic and Vincent Kompany helped Manuel Pellegrini's men overtake Arsenal, who could only draw at Southampton on Tuesday, at the top of the table, and breach that summit, a place where they will feel they belong, considering their unbelievable form.
Etienne Capoue briefly pulled the score back to 3-1 for Tottenham, who were aggrieved by a couple of decisions, particularly the red card shown to Danny Rose for a challenge inside the penalty box, but a glimmer of the slightest of hopes it proved to be, as that ridiculous gear was found yet again to put the issue beyond doubt.
Aguero opened the scoring in the 15th minute, and the Argentine could have easily grabbed a hat-trick, with only the crossbar, a brilliant save from Hugo Lloris and a goal-line clearance from Rose preventing the Argentine from bulging his tally earlier. Aguero, though, worryingly for City, hobbled off just before halftime, and it remains to be seen what the prognosis is for the striker, who only recently returned from injury.
City were always dominant, but at 1-0 there was still hope harboured at White Hart Lane, with the fans witnessing their side win five of their last six games under Tim Sherwood. However, hope is a fickle thing, something that can soon turn into despair in the blink of an eye.
That moment came when Rose challenged Dzeko inside the box, with referee Andre Marriner consulting with his assistant before awarding a penalty and a red card for Rose - replays showed the Spurs left-back had got a toe to the ball before the City striker went crashing down.
Tottenham, who were also denied a Michael Dawson goal, were furious, and it only got worse when Toure slotted home the spot-kick, with Dzeko making it 3-0 soon after. Capoue turned in at the other end off a corner, but City soon enough emphasised their authority, with Jovetic grabbing his first Premier League goal courtesy a deflected strike, before Kompany added the final emphatic nail in the Spurs coffin with an empty-netter a minute from time.
At Stamford Bridge, Chelsea had a chance to go level on points with Arsenal with a win over West Ham, but Sam Allardyce's men played out a thou-shall-not-pass game to frustrate Jose Mourinho's men, who try as they might, just could not find a way past the West Ham defence, and when they did, goalkeeper Adrian stood tall, making a few outstanding saves.
The 0-0 draw means Chelsea remain third, three points behind leaders City, and two adrift of second-placed Arsenal.
Other results: Aston Villa 4-3 West Brom; Sunderland 1-0 Stoke.