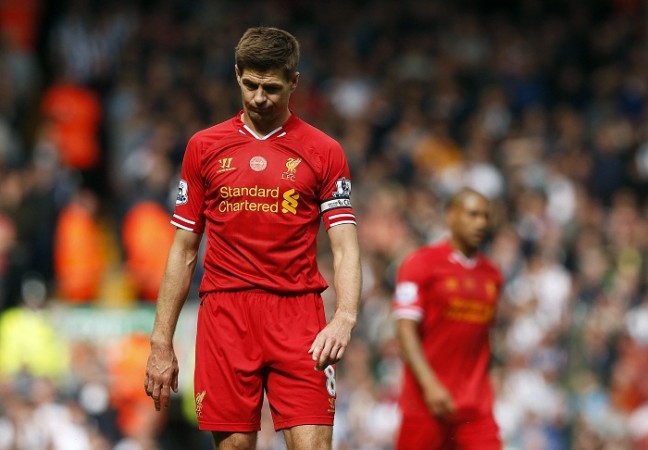 A came from behind 2-1 victory over the nine-man Newcastle United was not enough for the Liverpool as their 24-year long wait for the Premier League title continued.
The Brendon Rodgers' team headed into the must-win encounter hoping that the Manchester City would slip against the West Ham United.
Liverpool fans were stunned early in the first half, when Martin Skrtel scored an own goal by turning Yoan Gouffran's cross past Simon Mignolet in the 20th minute.
Rodgers' men hit back with two similar quick goals by Daniel Agger (63rd minute) and Daniel Sturridge (65th minute) to change the game. But it mattered little in the end, as Manuel Pellegrini's men outplayed West Ham 2-0 and went two points clear to win the title.
Liverpool captain Steven Gerrard said they challenged for the title till the final day of the season and this experience will help them winning the Premier League.
"This experience is going to take us to the title," Gerrard told LFC TV. "Whether it is next year or the year after, it will happen pretty soon. I've only got a couple of years left, but I still believe I can get there."
Gerrard, who has won FA Cup, League Cup and Champions League, said earlier he had thought that his Premier League dreams were over, but after playing with current players he is confident that the title is not too far away.
"I thought my days of title races had gone, but having played with this group of players this year, the dream is back," he said. I never give up fighting. I'm really confident and believe the title is not too far away. We've proved this season that we're capable of mixing it with the best, and we want to go one better next year."
Liverpool boss Rodgers said he is happy with the way his players have shown consistency in the season and finishing just two points behind the championship winners is a great progress.
"My overriding feeling at the moment is one of sheer pride in the players," Rodgers said. To finish the season winning 12 games out of 14 - we drew one and lost one - the players have shown an incredible level of consistency and quality in that period."
"Over the course of the season, to finish second behind Manchester City, we'd prefer to finish top, but it is a great marker of the progress we've made this season," he said.
Rodgers is confident the club will fight for the Premier League title next season with some new players. "The great thing about us is that we will improve, we will get better next season. We're a young group, we'll add more players and we'll be ready to fight again - now we've got the belief," he said.