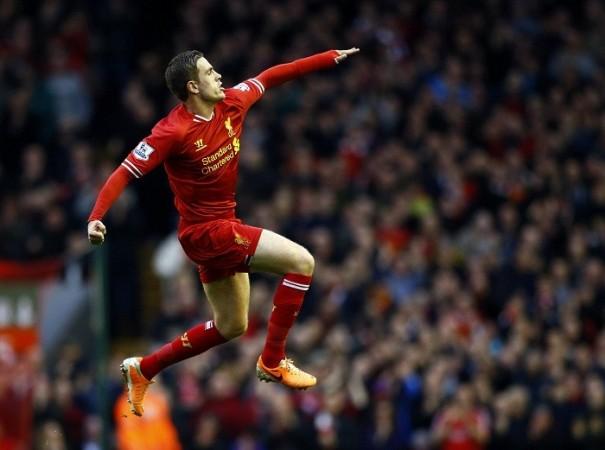 Liverpool were at their attacking best on Sunday at Anfield, but had to dig deep against a Swansea side that just refused to go away.
In a goal-fest, Liverpool just about managed to come out on top, getting the better of the Welsh side 4-3 to stay within touch of the frontrunners in the English Premier League.
Daniel Sturridge opened the scoring for Liverpool in just the third minute, latching onto a brilliant through ball from Raheem Sterling before rounding goalkeeper Michel Vorm to knock the ball into an empty net.
It looked like it would be another Anfield we-carve-teams-apart-here day when Jordan Henderson, off a pass from Sturridge, struck an as-sweet-as-it-gets 20-yeard effort into the top corner. But Swansea fought back gamely, with former Liverpool midfielder Jonjo Shelvey making it 2-1 three minutes later with an equally brilliant finish.
Wilfried Bony then made it 2-2 in the 27th minute heading in off a Jonathan De Guzman freekick, which took a big nick off Martin Skrtel's shoulder before going into the back of the net.
Liverpool, however, would go into halftime a goal up, as Sturridge completed his brace heading in a perfect cross from Luis Suarez, who, despite another great all-round effort, failed to get his name on the scoresheet. The lead, though, would last just two minutes after the restart, with Bony, first winning a penalty with Skrtel adjudged to have fouled the striker, and then duly stroking the ball home from the spot.
It was anybody's game really from then, with Liverpool needing three points to keep pace with the leaders, and Swansea desperate for a win to put some much-needed daylight between them and the bottom three.
Liverpool, though, were the ones that would have the final say, with Henderson, off a rebounded shot from Suarez, slotting home in the second attempt in the 74th minute to stay within four points of Premier League leaders Chelsea.
At Carrow Road, Tottenham failed to stay on the tails of Liverpool, going down 1-0 to Norwich, with Robert Snodgrass scoring the decisive goal just after halftime.
Thanks to that result, Liverpool now enjoy a six-point cushion from fifth-placed Spurs and the Reds look well on course to finish at least in the final Champions League position.
At St. James' Park, Newcastle ended their goal drought courtesy a dramatic 1-0 victory over Aston Villa. The Magpies had come into the game without managing a goal in their last four, and it looked like they would extend that unwanted streak to five, before Remy fired home in the 92nd minute to break the run and give Alan Pardew a phew-that-was-very-much-needed victory.
"It was a very, very good win for us," Newcastle midfielder Cheick Tiote told the club's official website. "We hadn't won for a long time so this is massive for the players, the manager, the fans- everyone.
"The main thing was to win the game. It was tough and it wasn't always a good match but we have three points and that is all that matters.
"We deserved it. Aston Villa said they tried to win the game but I don't think so. We had more chances and pushed hard, especially in the second half."