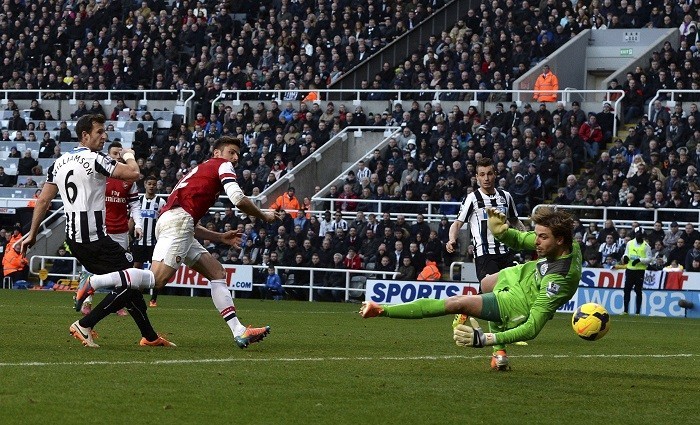 The true mark of a champion, or even a title-challenging side is the ability to grind out a win in difficult circumstances, and/or when you are not playing at your best.
Well, if Arsenal's performance at Newcastle is anything to go by - a 1-0 that-is-showing-some-real-character win - then Arsene Wenger's men are going to be right up there come May 2014.
For 2013, though, the Gunners are the top side in the English Premier League, with Olivier Giroud's winner at St. James' Park in a testy and turgid game taking the North London side to the top of the table, a one-point lead over Manchester City, in the final game of the year.
Mesut Ozil was not involved for Arsenal, with the German playmaker ruled out with a shoulder problem - probably a blessing in disguise, considering the club record signing did look in need of a rest.
Arsenal knew they would be in for a real contest - the only question was whether it would be an end-to-end you-score-and-then-I-score encounter or let's just size each other up and take it slowly 90 minutes of football.
With the way Newcastle were set up, with two out-and-out defensive midfielders in Cheick Tiote and Vurnon Anita, the signs pointed to the latter, and it proved to be gospel as neither side really got their teeth into the attacking part of the game in the first half.
Arsenal had quite a bit of possession, and so did Newcastle, but without too much oh-my-god-that-is-a-magnificent-save or how-on-earth-did-he-miss-that-chance moments.
It took until the 45th minute for the game to show any kind of signs of life, with Newcastle coming extremely close on a couple of occasions in succession.
Laurent Koscielny, back in the side after a knee injury, carelessly gave the ball away in his own half, with Yohan Cabaye, desperate to make an impact against the side that wanted him in the summer, seeing his strike well blocked by Koscielny, only for the rebound to fall for Moussa Sissoko to force a brilliant diving save from Wojciech Szczesny. Off the ensuing corner, Mathieu Debuchy, who previously had Newcastle's two best chances, saw his header bounce off the crossbar as Arsenal breathed a sigh of relief going into the break.
The start of the second half was all Arsenal really, without really any make-that-save-Tim-Krul chances. However, Newcastle's forward momentum was nullified, and you felt as long as Arsenal kept possession a chance or two would come.
Come it did on 65 minutes and off a simple setpiece. Theo Walcott floated one in nicely into the Newcastle box, with Giroud getting ahead of the Newcastle defenders, and easy as pie guiding the header in for the 1-0 to the Arsenal.
The Gunners had a splendid opportunity to out the game to a 2-0 nice and cosy three points bed, but Walcott, first and then Giroud could not finish.
Jack Wilshere, back from his two-match suspension, played in a lovely little disguised through ball to Walcott, whose first effort was saved by Krul, with the second, a floated chip cleared off the line by Mike Williamson. Giroud was the benefactor of the rebound, but skewed his right-footed strike well wide.
Newcastle, on a tremendous run of seven wins in nine matches, finally decided to put some concerted pressure on the Arsenal back-four, with Wenger making a couple of defensive substitutions to add to the pressure, but the away side's fort held firm to ensure they walked away with a second straight 1-0 victory from St James' Park and with it the New Year honours.
Meanwhile, Everton moved back to fourth, ahead of their Merseyside rivals Liverpool, at least for a couple of hours, with a 2-1 victory over Southampton. Seamus Coleman put the Toffees in front at Goodison Park in the ninth minute, before Gaston Ramires levelled the scores on 71 minutes.
However, the main man for Everton, Romelu Lukaku came to the fore yet again, firing home the winner to ensure his side bounced back from a disappointing defeat to Sunderland on Boxing Day.