For 50-odd minutes Manchester United looked capable of stopping the Chelsea juggernaut which has taken hold of the English Premier League this season, quelling the storm to a Category One. But then, in stepped that familiar figure in blue with his mop of greasy hair to head Chelsea in front, a lead they would keep with more than enough comfort until the 93rd minute.
Didier Drogba had done what he does best – score goals, and crucial ones at that – to seemingly spur Chelsea to a 1-0 win over Manchester United.
However, this is the English Premier League after all and it ain't ever over until the fat lady sings, and just when the fat lady was warming up those vocal chords, in stepped Robin Van Persie to slam home the equaliser deep, deep into injury time.
The drama unfolded as Di Maria ran down the left looking for one final cross, before being brought down by Bransislav Ivanovic. Referee Phil Dowd deemed the foul to be worthy of a second yellow card, and that just gave Manchester United that extra bit of belief, with Di Maria swinging in a wicked freekick for Marouane Fellaini to head towards the target.
The header was well saved by the excellent Thibaut Courtois, but there was Manchester United's very own inspirational striker Van Persie, who was at fault for Chelsea's goal, to slam the rebound through a crowd and into the back of the net, much to Louis Van Gaal's delight and Jose Mourinho, his former pupil's disgust.
Manchester United started the game pretty well as an attacking force, despite only Van Persie, of that fearsome attacking trident starting, as Radamel Falcao and Wayne Rooney were ruled out through injury and suspension respectively.
Di Maria was there, though, and the midfielder was presented with a glorious chance to open the scoring after a beautiful Manchester United attacking move, which saw Mata pick out a perfect pass for the former Real Madrid man to volley first-time, which unfortunately went into Row Z at Old Trafford.
Van Persie also had an early chance, after another quick Manchester United attack, with the striker unable to get enough of a connection to trouble Thibaut Courtois, who would later thwart the former Arsenal man with a typically authoritative save in a one-on-one situation.
Chelsea took a while to get going, with Cesc Fabregas kept quiet by Marouane Fellaini. The Blues seem to struggle creatively when Fabregas fails to get on the ball in the positions he would like to, and Fellaini did a really good job on the midfielder, who has been so influential in the early part of the season so far.
The likes of Eden Hazard, Oscar and Willian also did not prosper as much as they would have liked either, while Drogba, in the starting lineup only because Diego Costa and Loic Remy were ruled out through injury, did have Chelsea's best chance of the first half, forcing a save from David De Gea a few minutes before halftime.
Manchester United would have gone into the break in confident mood, considering they had kept the Chelsea attackers pretty quiet, even if the away side had a pretty decent case for a penalty, while looking like the more likelier team to break the deadlock.
They started the second half fairly brightly as well, with Fellaini firing a shot wide, before Hazard decided to bring out the kind of magic that unlocked the Arsenal defence a few weeks ago.
The can-tear-any-defence-apart-in-the-blink-of-an-eye playmaker went on that trademark mazy run, leaving a couple of Manchester United defenders for dead, before playing a nice one-two with Drogba, before breaking clear. However, with only De Gea to beat, Hazard fired the shot too close to the United goalkeeper, who made a smart save to deny the Chelsea man.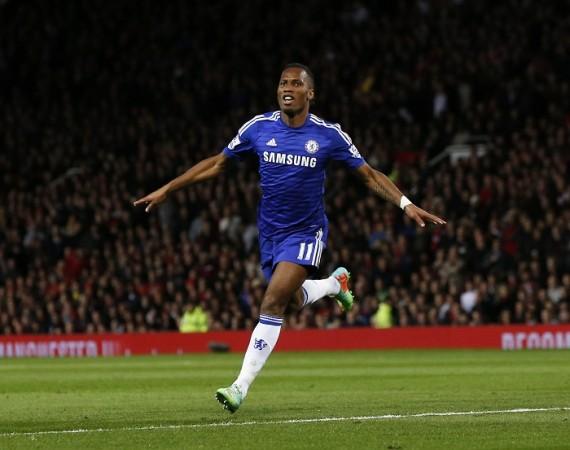 Off the resulting corner, though, the blow was struck as Drogba ran into the near post to direct a perfect header into the near corner with Van Persie, standing on the line after he had failed to protect that near post area, unable to prevent the ball from rustling the net.
Chelsea, knowing Manchester United would be desperate to find an answer ASAP, controlled the game for the next few minutes, making those simple passes at the back and frustrating the home side and their fans, and when the team in red did get back possession, they just could not do enough with it.
Di Maria, not at all influential in the first half, failed to find his magical touch, which has been so evident since his move from Real Madrid, while Mata, who was bright early on before fading, also could not pull those strings and find that perfect through ball to Van Persie.
James Wilson was brought on for Mata in the final 20 minutes as the former Chelsea man faded, but the young striker could not provide that moment of inspiration either, with United's best chance, yet again, coming the way of Van Persie, who was again stopped by Courtois.
The match looked destined to head Chelsea's way before those final dramatic couple of minutes brought out immense cheer, not only in the Manchester United camp, but in Manchester City, Arsenal and Liverpool as well.