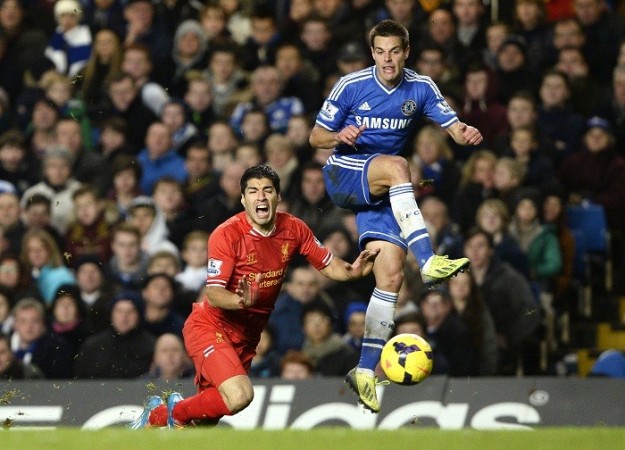 Chelsea manager Jose Mourinho called out Liverpool striker Luis Suarez's "diving" antics, insisting the Uruguayan deserved a yellow card or more for simulation during another high-voltage English Premier League game at Stamford Bridge on Sunday.
The Blues put on an impressive attacking display to come from a goal down and post a 2-1 victory over Liverpool, who, suddenly, after leading the Premier League at Christmas, find themselves consigned to fifth place following two straight losses.
While Liverpool were chasing the game, Suarez, who did not have one of his more influential 90 minutes, had a couple of penalty appeals turned down, the first one being for a challenge by Cesar Azpilicueta and the second by Samuel Eto'o, who scored the winner in the first half, after Eden Hazard had cancelled out Martin Skrtel's early opener.
"I'm always happy when I see him play because I love his quality, commitment and ambition to win, he's a fantastic player," Mourinho said of Suarez. "But this country is a special country, I'm not English or British, but I feel I have a responsibility to defend some values in football because there are more foreign managers coming here.
"One of the good things is that we don't like simulation and these situations in the box, with Azpilicueta and Eto'o, it has to be stopped or give him a yellow card, because it's not good.
"It's not a tackle, Azpilicueta is very strong, he didn't play against Swansea because I wanted him to play today against Sterling. I brought him to the right side, he has this situation with Suarez, who is playing every game for 90 minutes, and you can feel the difference between players who are playing every minute and the ones who are being protected.
"Suarez lost the duel with Azpilicueta, he has the ball and is leaving the box with the ball and then there is an acrobatic swimming pool jump to try and get a penalty, because he is so clever that he knows he is in the area where he has the Liverpool supporters behind.
"[Referee Howard] Webb is 10 metres away and the only mistake he made was to not give him a yellow card. There should only have been one penalty in the game -- Lucas on Hazard."
After going down to a Skrtel goal within three minutes, Chelsea roared back in some style, putting on a wonderful attacking display to deservedly score two goals before halftime to take the lead, a lead they would hold onto rather comfortably in the second 45.
"It was a big win, big opponent, big match and big respect to every player in this country because I love it, you love it, people around the world love it and the accumulation of matches is amazing," Mourinho added. "This was a big game; from the first to the last minute there was doubt about the result, everybody giving 100 percent. There was some good quality football and big emotion.
"We deserved to win because they did nothing to score the first goal. After that our reaction in the first half was fantastic. In the second half we defended well, they hit the post with [Mamadou] Sakho, we had some counter attack situations where we could have killed the game with Eto'o, [Fernando] Torres and Hazard, but we didn't and it was hard until the last minute, but I think we deserved it.
"The team did a very good job collectively, Liverpool are fantastic at building from the back, the way Brendan opens up the central defenders and puts Lucas in between them with the full backs in wide positions and the wingers inside, they are fantastic at that, but we did very well to press them high up.
"They weren't comfortable, the goalkeeper was kicking a lot of high balls and the fluency of their game which allows the last ball to come into Suarez didn't happen a lot. It was more about my team defending very well with 10 players than saying specifically this one or that one. Everybody played a good game."
Mourinho was also all praise for Chelsea skipper John Terry who made his 600th appearance for the club in the 2-1 victory.
"What's more important than the 600 matches is that he's played every minute of the 19 Premier League matches this season, which is amazing for a player that last season a lot of people thought was going down," the Portuguese said.
"He's showing fantastic quality, I'm happy for him. The players I had in the past I have a special connection with them, but I don't give them positions because I like them or because I have a relationship with them.
"At the moment, everything he's getting isn't because he's my man or my friend, or because I respect him from my first period here. He's getting these minutes because he's playing fantastically well."