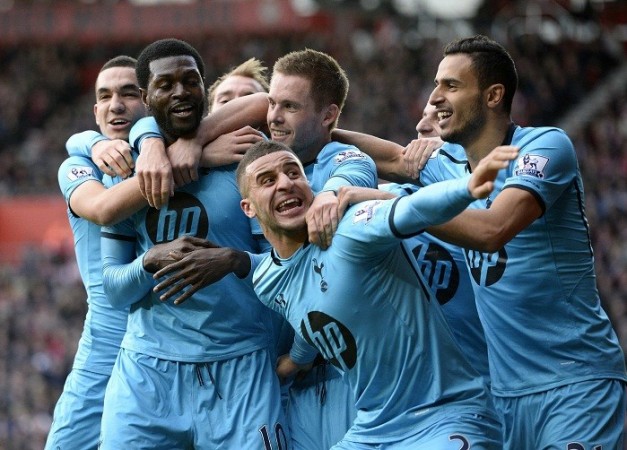 After scoring the first goal for Tottenham in the 3-2 win over Southampton, Emmanuel Adebayor's "really, you thought about freezing me out from the side" celebration said it all.
Adebayor had another great game, scoring a brace as Spurs put behind their off-field and on-field woes to take a precious English Premier League three points from St. Mary's.
Adam Lallana put Southampton ahead in just the 13th minute, only for Adebayor, courtesy a brilliant volley off a cross from Erik Lamela, to equalise on 25 minutes.
A Jos Hooiveld own goal gave Spurs the lead for the first time nine minutes into the second half, but the Saints refused to lie down as Rickie Lambert equalised just before the hour mark.
However, Adebayor, playing his second straight game after being frozen out by Andre Villas-Boas, had the final say, notching the winner in the 64th minute to take Tottenham to within six points of leaders Liverpool.
"The second half performance pleased me most," said interim manager Tim Sherwood, who named both Adebayor and Roberto Soldado in the starting lineup. "I thought we were excellent.
"The first half wasn't great, we kept turning the ball over. That was frustrating because I know we're better than that. It played into their hands because they put the press on and we kept giving the ball away. In the second half we got in behind that press and it opened up for us time and time again.
"We knew we had to get our top players on the ball in the correct areas as much as we could and we'd cause them problems and in the second half, we achieved that.
"I like attackers to attack, defenders to defend and midfielders to do a bit of both. In the second half, we did that perfectly."
The loss means Southampton have gone six matches without a win, with a 12-point gap opening up from themselves to Liverpool.
"I think -- in the second half in particular -- we got dressed up as Santa Claus and gifted them with many chances," Saints manager Mauricio Pochettino said. "Over the 90 minutes there were different phases to the game, there were some positive aspects and some not-so-positive aspects.
"In the first half there were chances for both teams. When it was 1-0 we had the game under control -- we could have even scored again to make it 2-0, but then we conceded the goal and practically gifted them the 1-1.
"We made a lot of mistakes and in the Premier League if you make mistakes like that then you will get punished."