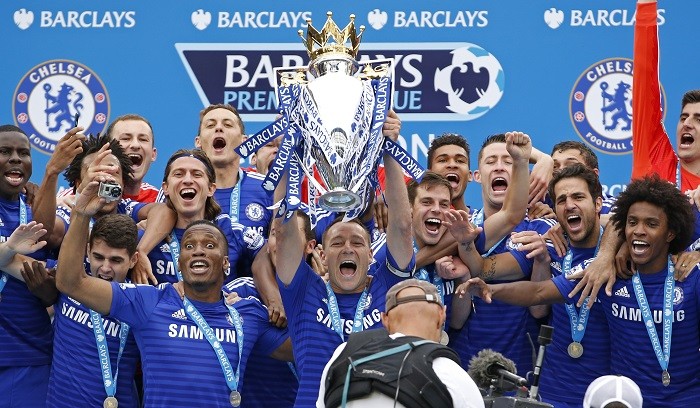 The curtains have finally come down on the 2014/15 Premier League campaign after a long season that had no shortage of excitement, emotions, triumphs and disappointments.
With the title race already being wrapped up by Chelsea on 3 May, the biggest suspense on the final day was whether Newcastle United or Hull City would be joining Queens Park Rangers and Burnley in relegation this season.
While Newcastle just needed a draw against West Ham, Hull required to record a win in their final game against Manchester United to avoid relegation.
In the end, the Magpies were seen celebrating as they managed to beat West Ham 2-0 courtesy of goals from Jonas Gutierrez and Moussa Sissoke.
Hull City, on the other hand, were only able to record a goal-less draw against the Red Devils despite Louis van Gaal's men being reduced to 10 men.
Meanwhile, Chelsea's Didier Drogba, Manchester City's Frank Lampard and Liverpool's Steven Gerrard were all given the captain's armband as they made their final Premier League appearance for their respective teams.
While it is already known that Lampard and Gerrard will be moving to the United States to play for MLS sides New York City and LA Galaxy, Drogba also confirmed that he will be again leaving Stamford Bridge this summer.
Drogba and Lampard received a good sending off in their final Premier League fixture as Chelsea and Manchester City both emerged victorious in their respective games against Sunderland and Southampton.
A penalty by Diego Costa and a late double by Loic Remy helped the Blues record a comfortable 3-1 win over Sunderland before celebrations began at Stamford Bridge as Chelsea officially lifted their first Premier League title in five years.
City, on the other hand, cruised to a comfortable 2-0 home win against Sunderland, with Lampard and Sergio Aguero (this season's Premier League Golden Boot winner) getting their name on the scoresheets.
Gerrard's final game in the Premier League, however, did not end well as Liverpool were inflicted a humiliating 6-1 defeat by Stoke City at Britannia Stadium on Sunday.
Arsenal, meanwhile, managed to end their three-match goal drought at home as a hat-trick from Theo Walcott coupled with an excellent striker from Jack Wilshere helped the Gunners thump West Bromwich Albion 4-1 at the Emirates.
Elsewhere, Tottenham managed to finish their campaign with a narrow 1-0 win over Everton courtesy of a striker from Harry Kane, while Leicester City continued their excellent form by inflicting a 5-1 defeat on the already relegated QPR side.
Crystal Place also managed to end their season with a narrow 1-0 win against Swansea City, while Aston Villa suffered an unexpected 1-0 defeat against Burnley.
Here are the complete results on the final day of the 2014/15 Premier League campaign:
Hull City 0-0 Manchester United
Aston Villa 0-1 Burnley
Crystal Palace 1-0 Swansea City
Arsenal 4-1 West Bromwich Albion
Manchester City 2-0 Southampton
Stoke City 6-1 Liverpool
Newcastle United 2-0 West Ham United
Everton 0-1 Tottenham Hotspur
Chelsea 3-1 Sunderland
Leicester City 5-1 Queens Park Rangers