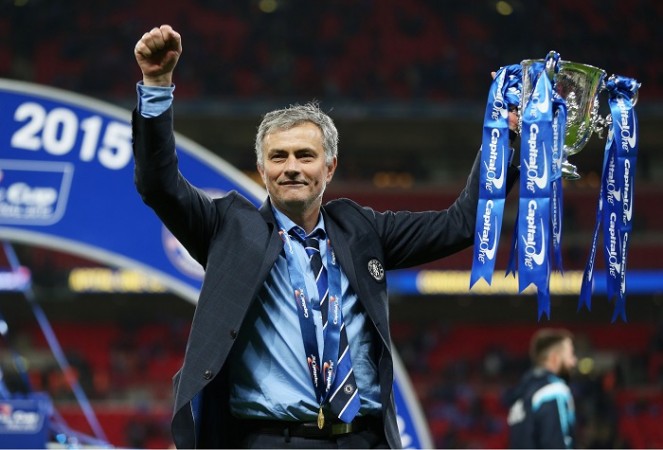 With Jose Mourinho in-charge of Chelsea, you can expect the unexpected. Going by their latest pre-season performance, the Blues have not been impressive, and Mourinho's confidence (or arrogance?) has led him to believe that pre-season is 'fake'. Chelsea also lost the Community Shield against Arsenal on Sunday.
Irrespective of how unimpressive they might have been during the pre-season, they are the EPL defending champions. We need to show respect to a team, which had more or less won the title with a few games in hand last season.
Chelsea finished eight points ahead of Manchester City last season, which was expected to be a close fight for the title finish. Despite their 'fake' pre-season, Chelsea are one of the favourites to win the title. Though football fans might have alleged the special one – Jose Mourinho – for parking the bus amongst other technical ploy, they have got the results they wanted.
If titles were awarded for playing pretty football, Arsenal would have won it last season, Liverpool for game possession and Manchester United for big signings. But the Blues have it in them to yield results from uncomfortable positions and take the all-important three points from their matches. This is what differentiates Chelsea and the rest of the top teams.
Chelsea's style of playing might have been booed, but their opponents have not been able to get the better out of Jose Mourinho and his men. Rather than complaining and moaning, other top teams need to get back on the chalk board and outthink Jose Mourinho, which has been a tough ask for some years in various domestic leagues.
Jose Mourinho is a tough nut to crack and his number of titles, managing European clubs such as Real Madrid, Inter Milan, Porto and Chelsea are testimonial to the fact.
No wonder Chelsea owner Roman Abramovich wanted Mourinho for a second tenure. Abramovich was guaranteed titles with Mourinho as the boss, but also profit as well, for he is truly a 'special one' when making deals during the transfer window.
Mourinho has sold players such as David Luiz (£50million), Petr Cech (£10m) and Filipe Luis (£16m) in his second tenure, which is bound to make the owner happy. Add to it the signing of Diego Costa from Atletico Madrid for £32 million last season. He helped Chelsea clinch the 2014/15 title with 20 goals in his first season.
The Blues did not make any eye-popping signings this season. Two key names that have been added to their team this season are Asmir Begovic (goalkeeper) and Radamel Falcao (striker), who are neither first choices in their respective positions.
One look at Chelsea's squad reflects the quality players in each and every position. There was not much need to make some changes, which Mourinhio has never been keen on.
Having said that, the Blues could have been well suited to bolstering their striking options up front as Costa has been a subject of regular hamstring injuries. However, Mourinho has taken on the gamble of signing Falcao, who is past his prime. His recent performances in Chelsea's Blue might have only strengthened the case.
Can Mourinho bring back the glory days of Atletico Madrid when Costa and Falcao rocked the world with their striking partnership? Otherwise, the team is ready for the first game of the season as they prepare to face Swansea City on 8 August.
With players such as Cesc Fabregas, Eden Hazard and Willian playing behind Costa, these quartet of players have goals written all over them, which makes them one of the most dangerous teams.
Chelsea are expected to play with the similar starting eleven that was so successful last season. Matic along with Ramires will be playing in the all important defensive midfield role with players such as John Terry, Gary Cahill, Bransilav Ivanovic and Cedar Azpilicueta forming the back four. Thibaut Courtois is the number one Chelsea custodian.
Thus, the Blues look a formidable side. However, there are some (read very few) loopholes in their team as well.
Will Falcao and Loic Remy shoulder the responsibility for Chelsea if Costa is sidelined with another injury? Do they have experienced defenders to replace Terry? Such questions come to the horizon with the number of games Chelsea have to play this season, including various domestic cup competitions and the champions league.
If the current crop of Chelsea players can deliver the goods like last season, we are left with only one question - give us one reason why Chelsea are not favourites to retain the title?