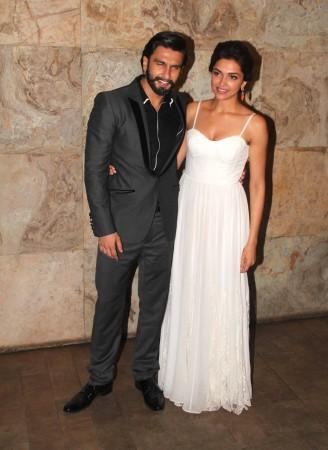 Ranveer Singh to Play Deepika Padukone's Husband
Bollywood actors Ranveer Singh and Deepika Padukone are all set to share screen space once again. The "Ram-leela" co-stars will be seen as a couple in Homi Adjania's "Finding Fanny Fernandes."
Ranveer will be seen playing Deepika's husband, though the role will be a cameo, reported Bollywood Hungama. The film, shot in Goa, also stars Arjun Kapoor, Naseeruddin Shah, Pankaj Kapoor and Dimple Kapadia.
The actors had attended Ahana Deol's wedding ceremony recently, and reportedly stole the spotlight by taking the dance floor by storm.
Salman Khan Turns Hairstylist for a Day
Superstar Salman Khan, unfazed with "Jai Ho"s average collections at the box office, is continuing his philanthropic activities. The actor participated in a charity-based reality show, which had him donning the hairstylist profession for a day.
According to the Hindustan Times, the money which Salman's haircutting act would fetch would then be donated to a person in need.
The "Dabanng" actor put on a selfless act yet again, as he gave away ₹1 lakh cheques to all crew members of "Jai Ho". Reportedly, Salman and brother Sohail Khan gave away around ₹2 crore in total. The cheques were a token of appreciation by the stars for the crew's contribution to the film.
The news was affirmed by Salman's father Salim Khan, reported Daily News Analysis.
Abhishek Bachchan Turns 38
Junior Bachchan turned a year older, as he celebrated his 38th birthday on Wednesday.
Amitabh took to his blog to wish son birthday greetings and sounded nostalgic as he wrote: "Abhishek just turned 38...! It is obvious cliché to start speaking suddenly of the day and moment he was born and what we were up to, of how he behaved when young, of his growing up, his days then to now, little incidents of nostalgic flavor."
Meanwhile, Farah Khan, director of Shah Rukh Khan and Abhishek starrer "Happy New Year" posted a picture, wishing the birthday boy.
Happppy birthday to my favourite boy @juniorbachchan .... No shouting at u 2 day! pic.twitter.com/G6Wt8fsnac

— Farah Khan (@TheFarahKhan) February 5, 2014
Reports are rife that wife Aishwarya Rai Bachchan has planned up a surprise party for her hubby.
Katrina Kaif Promotes L'Oreal Products
Days after being announced as the latest L'Oreal ambassador, Katrina Kaif launched the cosmetic brand's new hair-care range on Tuesday.
Speaking on the occasion the actress expressed her delight to be part of elite brand. "I am extremely happy and honored to be joining the L'Oreal Paris Family. I have been looking forward for saying it from years 'Because we are worth it' and that's something I finally got a chance to do," ANI quoted Katrina.