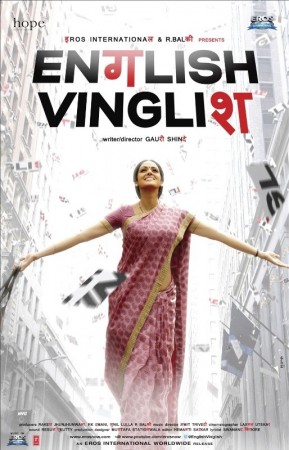 Sridevi's comeback movie "English Vinglish" has not only impressed the film critics but also her co-stars and audiences for her mind-blowing performance in the flick. Gauri Shinde's debutant directorial film, which was released on Oct. 5, has been appreciated and highly praised by the critics.
The movie marks the return of Sridevi to silver screen after a gap of 14 years and it looks like the Bollywood diva has not lost her charisma on screen. The film received rave reviews at 2012 Toronto International Film Festival with international media calling Sridevi as the "Meryl Streep of India".
Here's what critics had to say about the movie:
Taran Adarsh who reviewed for Bollywood Hungama said:
"First-time director Gauri Shinde [she has enough ad films to her credit] chooses a subject -- a woman incapable to converse in English and hence looked upon as an embarrassment by her own people -- to send across a message. The larger message is that any individual can triumph over any uncertainty, surmount all apprehensions and redeem the self-esteem, if he/she makes an earnest endeavor to overcome it. Also, the woman [a neglected housewife/a mother of two in the movie] yearns for respect. But respect can only be earned and the woman does so in the most uncomplicated, yet remarkable way.
"On the whole, ENGLISH VINGLISH is a remarkable motion picture. It's amusing, emotional, heartrending and also insightful. An inspiring film with an overwhelming message. A must-watch for every parent, every child. Strongly recommended!"
Shweta Parande for Bollywood Life said:
"The actor delivers a power-packed performance and leaves an indelible impression - and that, after a 15-year vacation from Bollywood!
"Everyone knows the story of English Vinglish from the trailer. So what is it that makes it special? Good performances, delightful dialogues and some scenes which both make you laugh and feel some dil ka dard. But at the same time, the film does not overwhelm or make you cry or think too much. Its beauty lies in its subtle messages and hints.
"Bollywood's legendary actor Amitabh Bachchan is loud and funny in his cameo in the film - hamming for some but likeable anyway.
"English Vinglish loses pace in bits and pieces, which is unfortunate considering that it's just over two hours long. Also, the climax is at a great Indian wedding, as it almost always is. But nevertheless, this one's a one-time must-watch with the family and touches on old-fashioned values like love, respect for one another (gays included, it insists), courage and determination to get out of a rut and brace for a challenge, loyalty to a partner and confidence in the self. It also tells you to finish what you have started - whether it's an English class or taking care of a family."
Aniruddha Guha of Daily News and Analysis said:
"English Vinglish is an absolute delight. No scene's out of place, no character unnecessary and no dialogue forced. The script, penned by Shinde, is razor sharp and she brings little nuances to her characters that help create an environment you can relate to. Laxman Utekar's cinematography aids his director's vision. The best thing about English Vinglish is that it speaks a universal language - you can set the film anywhere, change the characters' nationalities and shoot in a foreign language - yet the story would work. That quality, and the fact that it is seeped in culture, makes English Vinglish the rare crossover film from Bollywood.
"Without Sridevi, English Vinglish would have still worked, but the actress makes the film what it is. Her beauty remains untouched, the age only adding to the persona rather than taking away from it. The squeaky voice remains, and Sridevi may still not be a fit for diverse roles, but she makes Shashi her own, infusing life in the character and endearing herself to audiences in every scene."
"Shashi, the devastatingly unassuming heroine of English Vinglish, is a homemaker and crafter of much-adored laddoos, a fledgling entrepreneur doing what she does because its the only thing she's applauded for. Not knowing English, however, cripples her at nearly every turn, till the fact that she can't speak the language becomes her not-so-secret shame, not unlike Kate Winslet's illiteracy in The Reader. And here's the thing: Sridevi does far better.
"The film is staggeringly basic, with a fiendishly unclever plot -- woman feels bad, learns English, feels great -- and a narrative completely bereft of surprise. However, in a film cluttered with lesser victories, Shinde's greatest one might be the deftness with which she steers clear of melodrama."
Saibal Chatterjee of NDTV said:
"This film hinges on an idea that only reinforces the phony notion that a woman, no matter how gifted, must speak fluent English in order to truly assert herself.
"Tame superficiality is indeed the biggest bane of English Vinglish, which, for the most part, is otherwise reasonably watchable, especially owing to a charming performance by Sridevi, back on the big screen after a 15-year hiatus.
"The film has a clutch of fine performances. Both Adil Hussain and Mehdi Nebbou, despite their sketchily written roles, are solid. Priya Anand as the niece turns in a noteworthy performance. But it is Sridevi who is obviously the soul of English Vinglish."